Roswell Park, Oneida Healthcare Receive $500,000 Donation to Collaborative Campaign
Gift from Howard & Bess Chapman Charitable Corporation to support comprehensive cancer care in Central New York
Highlights:
Oneida Cancer Care campaign aims to bring Roswell Park's expertise to CNY
New and renovated cancer facilities to improve access to care for CNY patients
Fundraising & state grant have contributed $7.75M toward campaign goal of $12M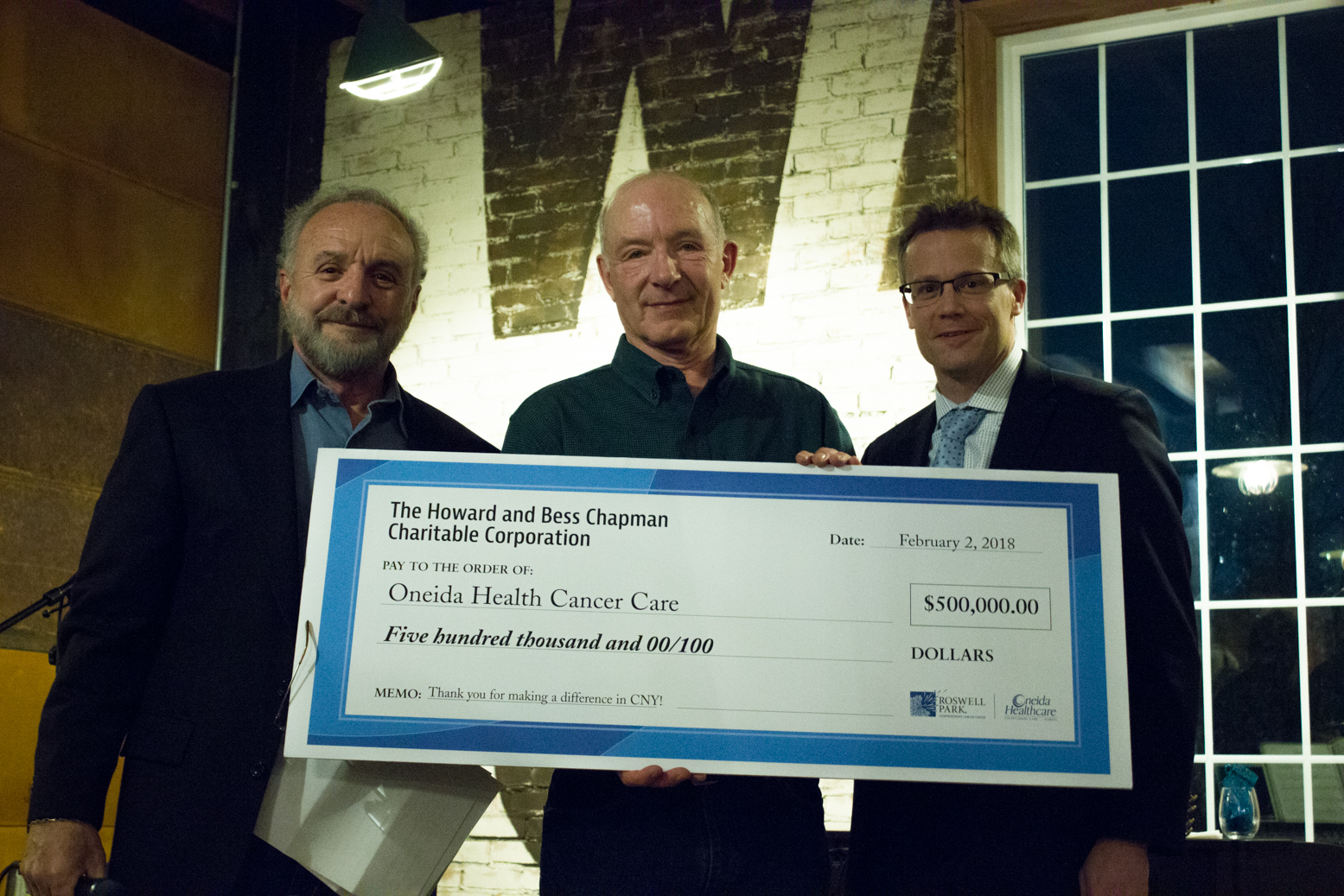 BUFFALO, N.Y. — The Howard & Bess Chapman Charitable Corporation has announced a half-million dollar gift to Oneida Healthcare (OHC) and Roswell Park Comprehensive Cancer Center. The gift will support a collaborative capital campaign aiming to provide access to National Cancer Institute-level cancer care to residents of Central New York. residents of Oneida, N.Y., and the surrounding area.
The two hospitals opened a new infusion center at the Madison County hospital's Oneida campus in mid-December and have plans to construct a new radiation oncology facility and expand the existing Alice M. Gorman Imaging Center in 2018. In addition to the new and renovated facilities, the leading cancer experts at Roswell Park will provide specialized training for staff at the OHC location, ensuring that the cancer care offered by OHC will match the same exceptional quality offered at the Buffalo cancer center and help eliminate lengthy commutes for patients.
"Cancer treatment can require weekly and sometimes daily visits for transfusions, radiation and follow-up visits. When patients and their caregivers need to travel several hours for each visit, it can become a barrier to treatment and negatively affect patient outcomes," said Roswell Park President and CEO Candace S. Johnson, PhD. "Roswell Park's collaboration with Oneida Healthcare will help to reduce this burden for patients in Central New York so that they can focus on what's most important — their treatment and recovery."
This is not the first gift that the Chapman Charitable Corporation has made in support of Oneida Healthcare; with this latest contribution, the Corporation has given a total of $815,000 to support hospital initiatives since 1997.
"Oneida Healthcare is truly grateful for the longtime support of the Howard & Bess Chapman Foundation," said Gene Morreale, President and CEO of Oneida Healthcare. "They were there when we needed help to expand the hospital for our growing patient needs and we are honored that every patient that enters our facility passes through the Howard & Bess Chapman entranceway."
The corporation was incorporated in 1991 and created by Oneida businessman, Howard Chapman, and his wife Bess to benefit the community. "Howard and Bess Chapman placed a high priority in the work of Oneida Healthcare and right from the beginning they generously contributed to what they considered 'Top Notch' healthcare," said Don Dew, President of the Chapman Foundation. "As a board, we try to carry through on their priorities as a continuation of the Chapman legacy."
Prior to launching the joint campaign, the State Department of Health awarded a $6.75 million grant toward the project, leaving OHC and Roswell Park with a fundraising goal of $5.25 million to complete the three-phase project. To date, OHC and Roswell Park have raised a collective $1 million toward that goal.
Individual gifts to support this project can be made online at give.roswellpark.org/Oneida or by calling Roswell Park at 716-845-1338.