Retired Firefighters Donate Funds to Further the Fight Against Lung and Prostate Cancers
Highlights:
$25,000 gift to benefit lung and prostate cancer research
Fund's third donation to RPCI since 2012, totaling $47,000
Fund has donated $200,000 to cancer research across North America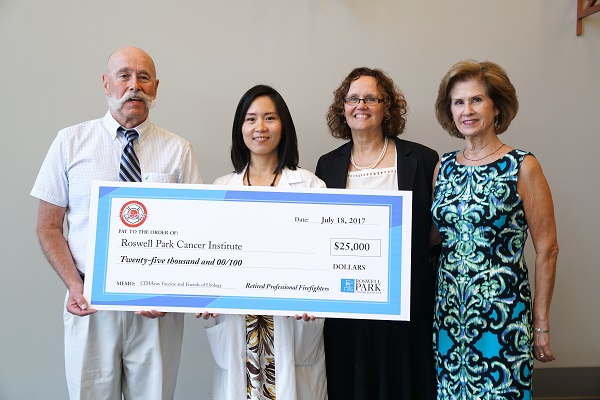 BUFFALO, N.Y. — A group of retired firefighters dedicated to raising funds for cancer research visited Roswell Park Comprehensive Cancer Center today to make a significant donation that will go toward lung and prostate cancer research.
The firefighters are members of the Retired Professional Fire Fighters Cancer Fund, a nonprofit organization based in Binghamton, N.Y. Their $25,000 donation will provide critically needed funding for new, promising research projects for lung and prostate cancers.
"As the Principal Investigator of the CIMAvax lung cancer vaccine trials, I'm particularly grateful to this group for their generosity and am excited about the impact this gift will allow us to make. I'd like to thank and applaud the leaders and members of the Retired Professional Fire Fighters Cancer Fund for their ongoing advocacy and fundraising efforts — on behalf of not only their fellow firefighters, but cancer patients everywhere," said Grace Dy, MD, Division Chief of Thoracic Oncology at Roswell Park.
The Retired Professional Firefighters Cancer Fund was established in 2006 and typically funds research for types of cancer that have a higher occurrence rate among firefighters. Today's gift marks the group's third donation to Roswell Park. In 2012, the organization made a $10,000 donation to support kidney cancer and leukemia research, and in 2015, a $12,000 donation to support urologic cancer research. Their donations total $47,000 to Roswell Park to date.
"No occupation is more adversely affected by cancer than the firefighter," said Bill Newland, Chairman, Retired Professional Fire Fighters Cancer Fund. "Who better to support cancer research? Since the start of our organization, we have raised and donated more than $200,000 to go directly to cancer research programs across the country. I'm pleased to be with you once again here at Roswell Park Comprehensive Cancer Center for this check presentation and our third donation."