Partnership Between Roswell Park Comprehensive Cancer Center and Buffalo Medical Group Expands Access to Oncologists
Roswell gynecologic oncologists to see patients at BMG Orchard Park office; BMG oncologists will provide care at RPCI
Wednesday, February 3, 2016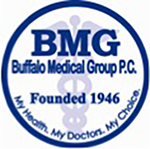 BUFFALO, N.Y. — Cancer patients in Western New York and surrounding areas will have greater access to expert oncology care as a result of a new collaboration between Roswell Park Comprehensive Cancer Center and Buffalo Medical Group P.C. (BMG). The two oncology providers have implemented a clinical-care partnership that will see gynecologic oncologists from Roswell Park's staff seeing patients at BMG's Orchard Park location, 3900 North Buffalo Road, and two of BMG's medical oncologists will be providing care to patients at Roswell Park. Both elements of this groundbreaking collaboration will translate to better access to care and integration of care for cancer patients.
"We provide the best cancer care when we combine resources with other outstanding providers," says Thomas Schwaab, MD, PhD, Chief of Strategy, Business Development and Outreach at Roswell Park. "This partnership between Roswell Park and Buffalo Medical Group brings to the Western New York community a broader array of oncology services and treatment options, enhanced convenience and more seamless continuity of care."
"Our collaboration with Roswell Park continues our commitment to provide the best possible care for our patients in the community," says Irene Snow, MD, BMG Medical Director. "Buffalo Medical Group has an in-house need for gynecologic oncology that the cancer center's specialists will help fulfill, while Roswell has a need for medical oncology coverage that our oncology providers will help satisfy."
Importantly, these collaborations will bring access to clinical research studies to BMG patients.
"The ability to participate in clinical trials can make a dramatic difference in both outcomes and quality of life for many patients with cancer," adds Dr. Schwaab, who is also a urologic oncologist and Associate Professor of Oncology at Roswell Park. "Clinical studies give access to the latest, most innovative cancer care, and in many cases they bring new and promising options to patients with hard-to-treat cancers who have already tried other therapies."
Shashikant Lele, MD, FACOG, Clinical Chief of Gynecologic Oncology and Clinical Chair of the Division of Surgical Subspecialties at Roswell Park, and Emese Zsiros, MD, PhD, FACOG, Assistant Professor of Oncology within the Department of Gynecologic Oncology and the Center for Immunotherapy at Roswell Park — both fellowship-trained gynecologic oncologists — will see patients at BMG Orchard Park on alternating Thursdays.
Dr. Lele is a former chair of the Roswell Park Department of Gynecologic Oncology. A graduate of Grant Medical College at the University of Mumbai, India, he served residencies at JJ Hospital-Grant Medical College and at Mount Sinai Hospital in Cleveland, Ohio, before completing a fellowship at Roswell Park. Dr. Zsiros joined Roswell Park's medical staff and faculty in 2014 and oversees ongoing research in the area of cancer immunotherapies.
Dr. Lele is board-certified in both gynecology/obstetrics and gynecologic oncology, and Dr. Zsiros is board-certified in gynecology/obstetrics and board-eligible in gynecologic oncology. They both diagnose, treat and manage care for patients with all cancers of the female reproductive system.
Seeing patients at Roswell Park on a part-time basis will be BMG oncologists Hong Liu, MD, PhD, and Victor Yosuico, MD, MSc, fellowship-trained medical oncologists who will be providing care to patients with gastrointestinal and melanoma/sarcoma/soft-tissue cancers, respectively.
Dr. Liu, who is board-certified in medical oncology, hematology and internal medicine, is a graduate of Beijing Medical University, China; holds a doctorate in microbiology and immunology from the University of Texas Medical Branch; and completed both an internal medicine residency and a fellowship in hematology/oncology at the University of Florida, Gainesville. Dr. Yosuico is board-certified in internal medicine, medical oncology and hematology, and earned his medical degree at the College of Medicine of the University of the Philippines. Following his training there in internal medicine, he completed clinical fellowship training in medical oncology and hematology at Roswell Park. He also holds a master's degree in clinical epidemiology.
Plans call for additional Buffalo Medical Group physicians to be providing services at Roswell Park in the future.
"For many years our institutions have worked together to care for patients diagnosed with cancer, and we will continue to investigate opportunities where our collaboration will benefit Western New Yorkers facing the disease," Dr. Snow explains.
In Erie County, N.Y., alone, more than 6,200 people are newly diagnosed with cancer each year, including nearly 300 women diagnosed with gynecologic cancers.
To schedule an appointment with any of these oncologists, please call 1-800-ROSWELL (1-800-767-9355) or the BMG Orchard Park Office at 716-630-1334.
###
Editor's note: High-resolution photos of the oncologists mentioned here available on request. Please send request by email to annie.deck-miller@roswellpark.org.
About Roswell Park
The mission of Roswell Park Comprehensive Cancer Center is to understand, prevent and cure cancer. Founded in 1898, Roswell Park is one of the first cancer centers in the country to be named a National Cancer Institute-designated comprehensive cancer center and remains the only facility with this designation in Upstate New York. The Institute is a member of the prestigious National Comprehensive Cancer Network, an alliance of the nation's leading cancer centers; maintains affiliate sites; and is a partner in national and international collaborative programs. For more information, visit www.roswellpark.org, call 1-800-ROSWELL (1-800-767-9355) or email AskRoswell@Roswellpark.org. Follow Roswell Park on Facebook and Twitter.
About Buffalo Medical Group
Founded in 1946, Buffalo Medical Group, P.C., is among the oldest and largest multi-specialty physician practice groups in New York State. With more than 125 primary care, specialist and sub-specialist physicians¬ – as well as a team of more than 600 nurses, technologists and other health care professionals – BMG records more than 500,000 outpatient visits annually at its main locations in Buffalo, Williamsville and Orchard Park as well as 20 satellite sites. For more information on BMG, visit our website at www.buffalomedicalgroup.com.