Limited Edition "Roswell Strong" Necklace Now On Sale to Support Research and Patient Programs at Roswell Park Comprehensive Cancer Center
Thursday, December 8, 2016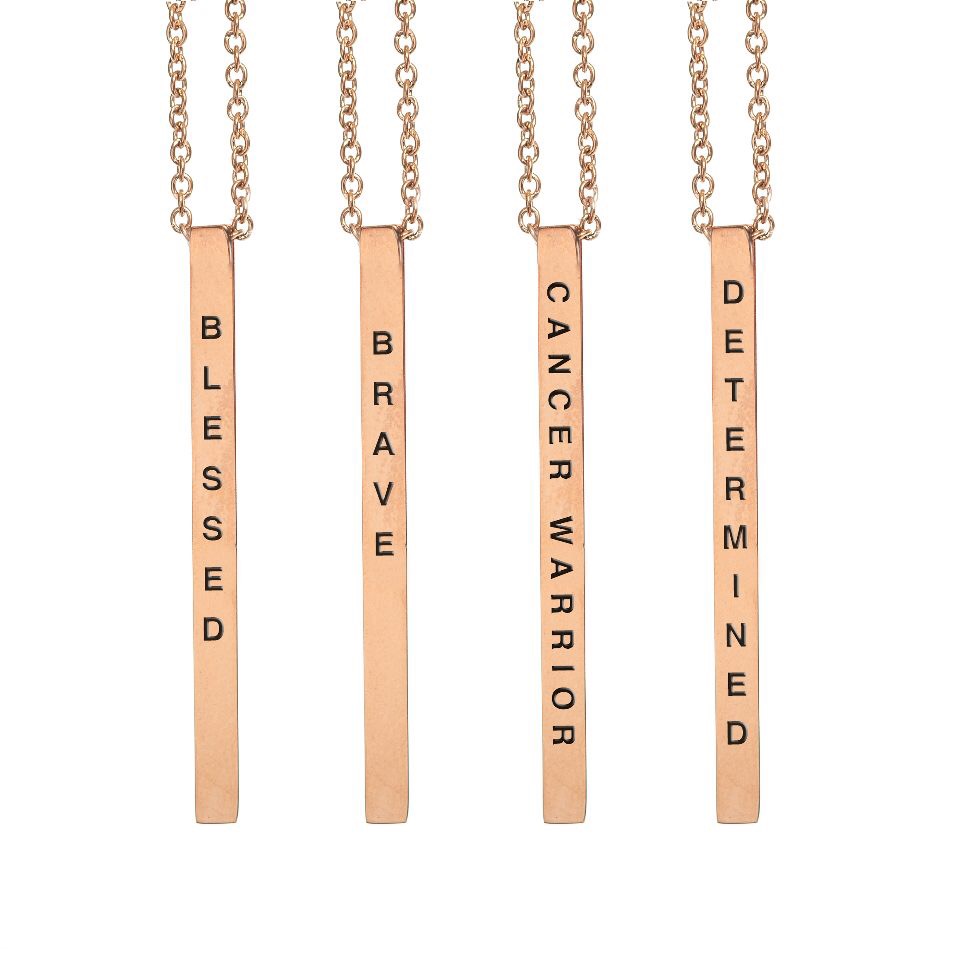 Buffalo, NY — Just in time for the holiday season, Roswell Park Comprehensive Cancer Center, in collaboration with Tony Walker & Co, has released a limited-edition necklace that carries powerful affirmations close to the heart of those facing, or who have faced, a cancer diagnosis. The "Roswell Strong" necklace features a four-sided bar pendant inscribed with meaningful messages to inspire and empower: Cancer Warrior, Determined, Brave and Blessed.
The necklace comes in two styles, rose gold (29-inch chain with 3-inch extension) and silver (26-inch chain).
"It's a statement necklace; not in size, but in meaning," said Kathy Graim, Roswell Park patient and cancer survivor. "It takes courage, determination and bravery to battle through our treatments, and every new day we have is a gift and a blessing. This necklace represents what it means to be a survivor."
Produced by Modern Luxuri, one of Tony Walker's exclusive brands, the necklace retails for $50 and is only available online. Fifty percent of the purchase price from each necklace will benefit cancer research and compassionate quality-of-life programs at Roswell Park.
To order, shoppers can visit the following links at iWorldShoppingCenter.com:
A total of 125 necklaces are available for purchase while supplies last; orders placed by December 20 with free standard shipping within the continental United States will be received by December 24.
###
The mission of Roswell Park Comprehensive Cancer Center is to understand, prevent and cure cancer. Founded in 1898, Roswell Park is one of the first cancer centers in the country to be named a National Cancer Institute-designated comprehensive cancer center and remains the only facility with this designation in Upstate New York. The Institute is a member of the prestigious National Comprehensive Cancer Network, an alliance of the nation's leading cancer centers; maintains affiliate sites; and is a partner in national and international collaborative programs. For more information, visit www.roswellpark.org, call 1-800-ROSWELL (1-800-767-9355) or email AskRoswell@Roswellpark.org. Follow Roswell Park on Facebook and Twitter.