Laura Krolczyk Named Director of State Relations at Roswell Park Comprehensive Cancer Center
Area native joined cancer center's staff in 2010, will now lead engagement with New York state offices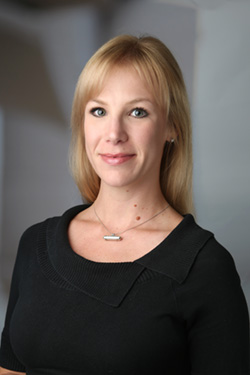 BUFFALO, N.Y. — Roswell Park Comprehensive Cancer Center has promoted Laura Krolczyk to Director of State Relations within the Office of Government and Community Relations.
"Laura has gained valuable experience through her work on numerous state and local legislative issues over the past several years, including the successful passage of the ban on teen tanning, the extension of the collaborative drug therapy management program and the advancement of initiatives to curb electronic cigarette usage," says Lisa Damiani, Vice President for External Affairs.
In her new capacity, Krolczyk will be Roswell Park's primary representative with New York state, leading the Institute's interactions with the governor's office, the Legislature, and with state agencies in Albany.
Prior to coming to Roswell Park in 2010, Krolczyk served as a legislative aide to Sens. Hillary Clinton and Kirsten Gillibrand, directing their Western New York regional offices. Named to Buffalo Business First's 40 Under 40 in 2014, she most recently served as Director of Government and Community Relations at the Buffalo comprehensive cancer Institute. A Western New York native, she lives in Cheektowaga, N.Y.
###
The mission of Roswell Park Comprehensive Cancer Center is to understand, prevent and cure cancer. Founded in 1898, Roswell Park is one of the first cancer centers in the country to be named a National Cancer Institute-designated comprehensive cancer center and remains the only facility with this designation in Upstate New York. The Institute is a member of the prestigious National Comprehensive Cancer Network, an alliance of the nation's leading cancer centers; maintains affiliate sites; and is a partner in national and international collaborative programs. For more information, visit www.roswellpark.org, call 1-800-ROSWELL (1-800-767-9355) or email AskRoswell@Roswellpark.org. Follow Roswell Park on Facebook and Twitter.