International Accreditation Reaffirms Excellence of Roswell Park's Blood and Marrow Transplant Center
Comprehensive cancer center has been recognized for superior performance five consecutive times
Highlights:
BMT team earned distinction for adult and pediatric blood/marrow transplants
FACT accreditation recognizes excellence in all areas of cellular therapy
Roswell Park also designated as Blue Distinction® Center for Transplants
BUFFALO, N.Y. — The blood and marrow transplant (BMT) program at Roswell Park Comprehensive Cancer Center has been accredited by the Foundation for the Accreditation of Cellular Therapy (FACT) for the fifth consecutive time. The recognition reaffirms that the cancer center's BMT program meets or exceeds the organization's high standards for patient care and laboratory services.
FACT is an internationally recognized accrediting body for hospitals and medical institutions offering cellular therapies. Roswell Park was first accredited by FACT in 2002 and has held the designation continuously, with successful reinspections every three years.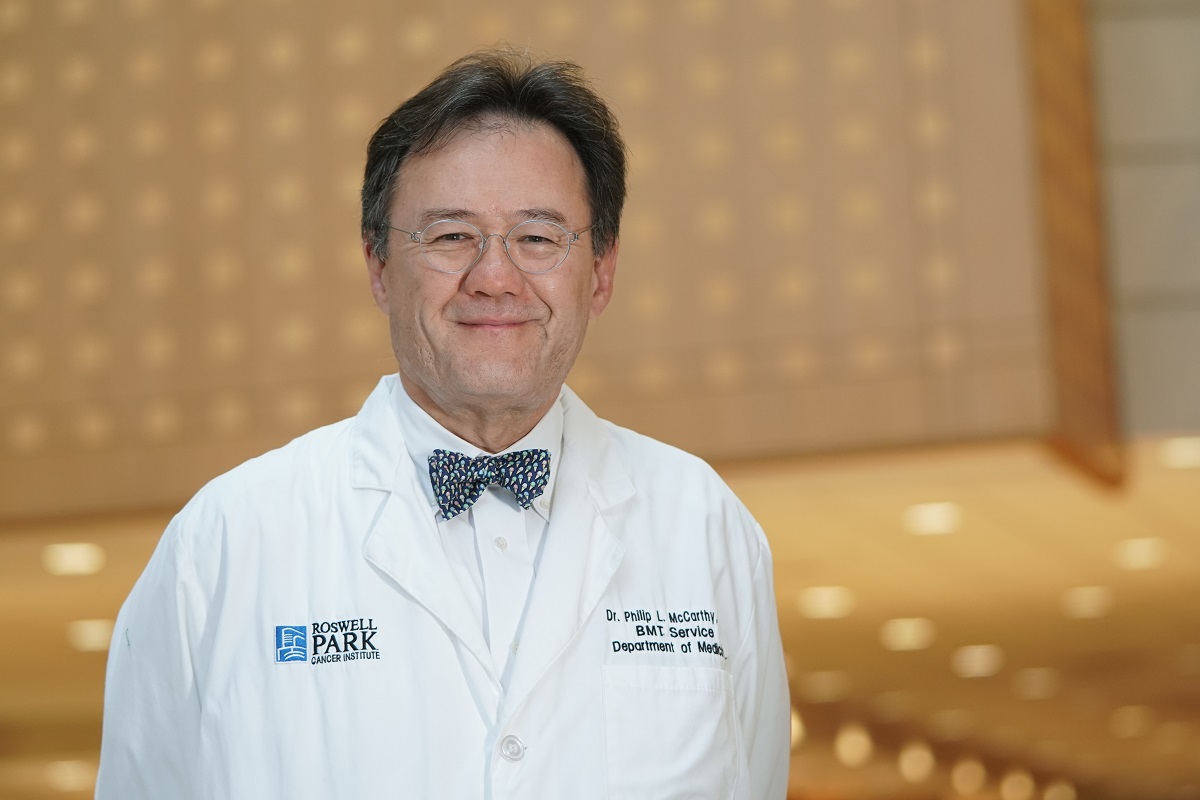 The comprehensive cancer center was recognized for its adult and pediatric blood/marrow transplants, cell collection and for immune effector cellular therapy, a new specialty involved in many forms of immunotherapy. The designation indicates that the institution has met the most rigorous standards in every aspect of cellular therapy, from clinical care and donor management to cell collection, processing and storage.
"Maintaining this accreditation is a team effort. Everyone from the nursing staff to clinical support teams work together to provide a wide range of exceptional transplant and immune effector cellular therapies for a challenging and complex set of cancers," says Philip McCarthy, MD, Director of the Blood and Marrow Transplant Center and Professor of Oncology and Internal Medicine within the Department of Medicine at Roswell Park. "We continually track our progress to make sure we're offering the best care for our patients — from diagnosis through survivorship."
This recognition affirms the center's strong performance across many clinical areas provided by a team of specialists whose experience spans multiple disciplines. Roswell Park's one-year survival rate for BMT patients has consistently exceeded the expected survival rate as determined by an outside organization, the Center for International Blood and Marrow Transplant Research.
As an additional reinforcement of superior clinical care, Roswell Park Comprehensive Cancer Center has also been named a Blue Distinction Center for Transplants by the BlueCross BlueShield Association. The national designation is awarded to medical facilities that deliver better overall quality and medical outcomes for a specific area of specialty care, helping patients and doctors make more informed hospital choices. The BMT team at Roswell Park earned this because of their expertise in delivering specialty care for bone marrow/stem cell (autologous and allogeneic) procedures.
 To learn more about the Blue Distinction designation, visit www.bcbs.com/bluedistinction.
For more information about the FACT Accreditation, go to factwebsite.org.
###
Roswell Park Comprehensive Cancer Center is a community united by the drive to eliminate cancer's grip on humanity — by unlocking its secrets through personalized approaches and unleashing the healing power of hope. Founded by Dr. Roswell Park in 1898, it is the only National Cancer Institute-designated comprehensive cancer center in Upstate New York. Learn more at www.roswellpark.org, or contact us at 1-800-ROSWELL (1-800-767-9355) or ASKRoswell@roswellpark.org.