Hockey Fights Cancer Night in Buffalo Slated for Nov. 18
In partnership with the Courage of Carly Fund at Roswell Park
Thursday, November 16, 2017
Highlights:
Buffalo Sabres partner with Courage of Carly Fund for Hockey Fights Cancer Night
Game takes place Saturday, Nov. 18, at 7 p.m. against the Carolina Hurricanes
Ceremonial puck drop to take place before the game.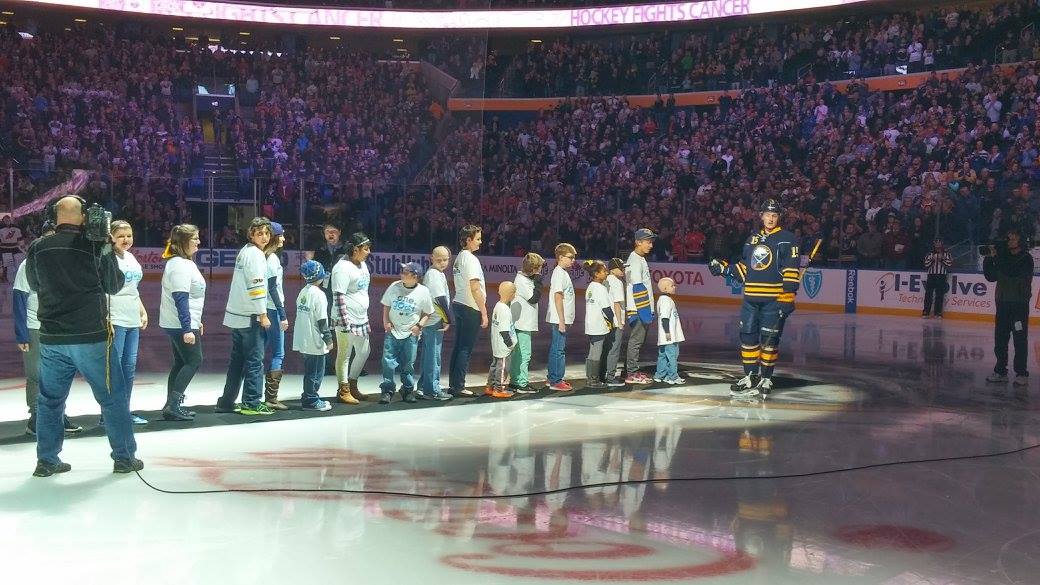 BUFFALO, N.Y. - The Buffalo Sabres today announced that the team will again take part in the NHL Hockey Fights Cancer™ program, in partnership with the Courage of Carly Fund at Roswell Park Comprehensive Cancer Center, during the team's home game on Saturday, Nov. 18, at 7 p.m. against the Carolina Hurricanes. As part of an NHL-wide initiative to raise money and awareness for cancer research, the Sabres will be hosting events throughout the night in support of local cancer patients and their charitable organizations. All fans attending the game will receive a co-branded Sabres and Courage of Carly Fund Scarf.
"Roswell Park and the Courage of Carly Fund are both proud and grateful to be the Sabres' chosen partner for this year's Hockey Fights Cancer program," says Candace S. Johnson, PhD, Roswell Park President and CEO. "The awareness and funds raised through this collaboration allow us to give every child who comes through our doors a fighting chance, and bring us one step closer to a world where families no longer fear a cancer diagnosis."
Fans attending the game will also have the opportunity to purchase autographed Hockey Fights Cancer hats for $20. The hats have been donated by New Era Cap Company and will be sold before the game and through the second intermission. All proceeds from the sale will be donated to Roswell Park Comprehensive Cancer Center. Wives and girlfriends of Sabres players will be on hand to assist with the sale. Hockey Fights Cancer shirts will also be on sale in the Sabres store.
"Hockey Fights Cancer is a movement that has been in the hockey world for almost 20 years and has given endless support to those affected," said Russ Brandon, Sabres President. "The Sabres are proud to work up with the amazing team at Roswell Park Comprehensive Cancer Center to help further both groups' efforts in helping families and fighting this disease."
Fans attending the game will have the opportunity to purchase raffle tickets for a chance to win Sabres experiences and autographed items. Roswell Park volunteers will be selling three tickets for $10 or 10 tickets for $20 and will be located on the 100 level near the bridge to HarborCenter. Furthermore, an online auction featuring unique Sabres autographed merchandise and experiences will be running this week on auctions.NHL.com. All proceeds from these auctions will benefit Roswell Park Comprehensive Cancer Center. This auction will start on November 18 at 9 p.m. and will close on November 26 at 9 p.m.
To commemorate the night, all Sabres players will wear purple jerseys and use sticks with purple tape during warmups. The jerseys will be auctioned off on auctions.NHL.com immediately following the game. Sabres coaches and broadcasters will be wearing commemorative Hockey Fights Cancer ties. There will also be a ceremonial puck drop before the game, so fans are strongly encouraged to be in their seats early
Roswell Park volunteers will also be stationed at tables throughout the concourse to help fans fill out "I'm fighting for ___" placards to be held up at a designated time during the second period.
Over the past five years, the Buffalo Sabres' Hockey Fights Cancer fund has donated $30,000 to Flashes of Hope, a non-profit organization dedicated to finding a cure for children's cancer while honoring the unique life and memories of every child fighting cancer. Several Sabres players went to Roswell Park Comprehensive Cancer Center on Oct. 19 to visit with patients that benefit from Flashes of Hope.
Flashes of Hope will also be set up from 5 to 6:30 p.m. near the elevators on the street level to give cancer survivors an opportunity to have their photos taken professionally.
Members of the Courage of Carly's Fund will join other cancer patients from Roswell Park throughout the game in suites donated by the Sabres' organization and Sabres players Ryan O'Reilly and Zach Bogosian. After the game, pediatric cancer patients will have the opportunity to meet with Sabres players in the team's locker room.