Carly's Club at Roswell Park Announces New Name and Multi-Year Program Sponsorship
The Courage of Carly Fund supports families facing childhood cancers and blood disorders
Highlights:
Carly's Club has rebranded to the Courage of Carly Fund
Courage of Carly Fund will fuel research and programs
New Era Cap Foundation announced multi-year program sponsorship commitment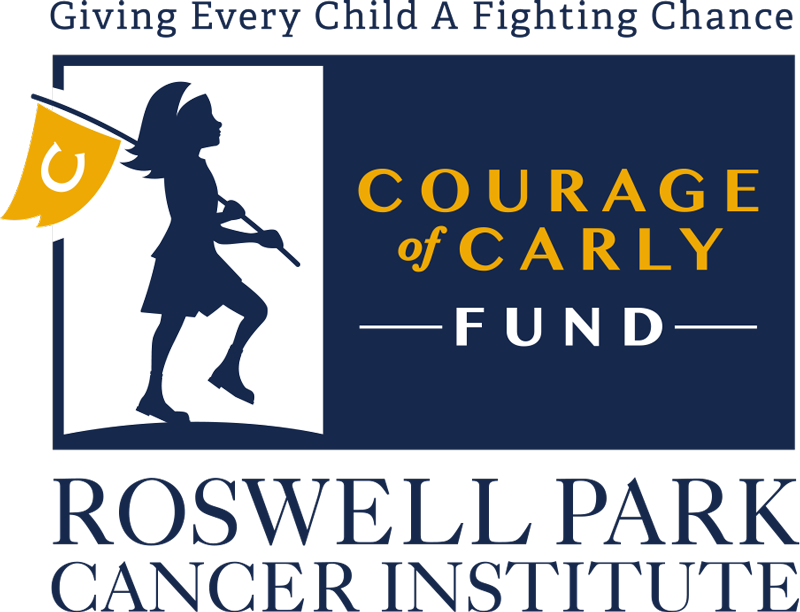 BUFFALO, N.Y. — Carly's Club, an organization that raises funds for pediatric cancer research and family support programs at Roswell Park Comprehensive Cancer Center, announced today that it has rebranded as the Courage of Carly Fund (CCF). Under the new name, CCF will also support research and family-centered programming to benefit children receiving outpatient care for non-malignant blood disorders at Roswell Park's new Katherine, Anne & Donna Gioia Pediatric Hematology Oncology Center scheduled to open next month.
Candace Johnson, PhD, President and CEO of Roswell Park announced the new name at a press conference held at New Era Cap's Buffalo headquarters which was aired live on the Courage of Carly Fund Facebook page. "As Roswell Park approaches a new era of pediatric care, so does Carly's Club. Under its new name, the Courage of Carly Fund will celebrate the bravery and strength of all our young patients, and provide hope to the entire family as they continue their fight," said Johnson. "Donor support allows us to give every child a fighting chance by expanding our research and programming to benefit children facing cancer and blood disorders."
Carly's Club was created by 8-year-old Carly Collard Cottone who was diagnosed with brain cancer in 1999. While receiving treatment at Roswell Park, she wanted to help other kids who were also battling cancer. She used her "kids helping kids" mantra to share toys, gifts and positive experiences with other pediatric cancer patients.
Shortly before Carly's passing in August 2002, the Roswell Park Alliance Foundation established an endowment in her name. Over the past fifteen years, contributions made to the endowment through community donations and fundraising events have enabled Roswell Park to provide help and support to countless families touched by cancer.
New Era Cap Foundation Sponsorship
In addition to the unveiling of the new CCF brand, Chris Koch, President & CEO of New Era announced that the New Era Cap Foundation has committed to a generous multi-year commitment as presenting sponsor of the Courage of Carly programs so that more community donations can be directed toward research efforts.
"For nearly a decade, the partnership between New Era and Roswell Park has always been about hope, inspiration and empowering patients," said Koch. "Now, as the program sponsor of the Courage of Carly Fund, we're further ensuring that these young patients and their families have access to resources and activities that let them be kids, have carefree fun and know they're not fighting alone."
In 2016, Roswell Park's pediatric program cared for more than 600 new patients. As part of the Roswell Park Oishei Children's Childhood Cancer and Blood Disorder Program launching this fall, Roswell Park's program is anticipated to grow and handle more than 7,500 outpatient visits per year.