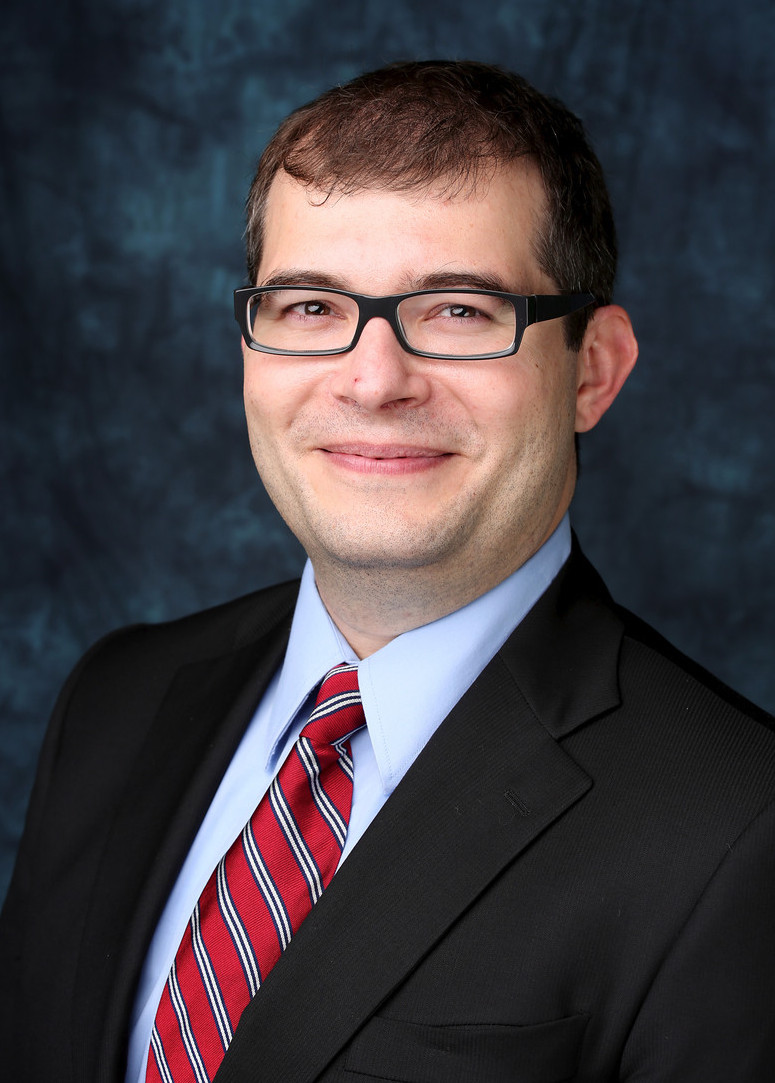 Mateusz Opyrchal, MD, PhD
Assistant Professor of Oncology
Roswell Park Cancer Institute
Jacobs School of Medicine and Biomedical Sciences, State University of New York at Buffalo
Background
Education and Training:
2005 - PhD - Molecular Biology - University of Medicine & Dentistry of New Jersey, Newark, NJ
1999-2007 - MD/PhD - New Jersey Medical School, University of Medicine & Dentistry of New Jersey, Newark, NJ
Residency:
2007-2010 - Internal Medicine - Mayo Clinic, Rochester, MN
Fellowship:
2010-2013 - Oncology Fellowship, Mayo Clinic, Rochester, MN
Board Certification:
2014 - Medical Oncology, American Board of Internal Medicine (ABIM)
2010 - Board certified in Internal Medicine
Professional Memberships:
2012-present - American Society of Clinical Oncology
2011-present - American Society of Gene and Cell Therapy
Articles
Oprychal M, Salisbury JL, Gil M, Goetz MP, Suman V, Degnin A, McCubrey J, Haddad T, Iankov I, Erlichman E, Engle JN, Galanise, D'Assoro AB. Molecular targeting of the aurora-A/SMAD5 oncogenic axis restores chemosensivity in breast cancer cells. Oncotarget J 2015 submitted
Pokuri VK, Opyrchal M, Boland PM. Aurora kinase A and gastrointestinal malignancies. Intl J Cancer Res Mol Mech 2015 1 (3)
Gaertner K, Sangameswaran DG, Khoury T, Young J, Opyrchal M. The potential of antibody drug conjugates in the treatment of breast cancer. J Targeted Ther in Cancer 2015 Feb.36-43
Gil M, Weroha SJ, Iyer R Opyrchal M. Multi-targeted kinasae inhibitor sorafenib and its future Cancer Chemotherapy Reviews January-March 2015, Volume 10, Number 1
Gil M, Komorowski MP, Seshadri M, Rokita H, McGray AJ, Opyrchal M, Odunsi KO, Kozbor D. CXCL12/CXCR4 blockade by oncolytic virotherapy inhibits ovarian cancer growth by decreasing immunosuppression and targeting cancer-initiating cells.J Immunol 2014 Nov 15;193(10):5327-37
Opyrchal M, Salisbury JL, Iankov I, Goetz MP, McCubrey J, Gambino MW, Malatino L, Puccia G, Ingle JN, Galanis E, D'Assoro AB. Inhibition of Cdk2 kinase activity selectively targets the CD44 /CD24 /low stem-like subpopulation and restores chemosensitivity of SUM149PT triple-negative breast cancer cells. Intl J Oncol 2014 Sep;45(3):1193-9
Opyrchal M, Salisbury JL, Zhang S, McCubrey J, Hawse J, Goetz MP, Lomberk GA, Haddad T, Degnim A, Lange C, Ingle JN, Galanis E, D'Assoro AB. Auora-A mitotic kinase induces endocrine resistance through down-regulation of ERα expression in initially ERα + breast cancer cells. PLoS One 2014 May 9;9(5):e96995.
D'Assoro AB , Liu T, Quatraro C, Amato A, , Opyrchal M, Leontovich, Ikeda Y, Ohmine S, Lingle W, Suman V, Ecsedy J, Iankov I, Di Leonardo A, Ayers-Inglers J, Degnim A, Billadeau D, McCubrey J, Ingle J, E, Salidbury JL, Galanis E.. The mitotic kinase Aurora - a promotes distant metastases by inducing epithelial-to-mesenchymal transition in ERα(+) breast cells. Oncogene. 2014 Jan 30;33(5):599-610.
Opyrchal M, Allen C, Msaouel P,\ Iankov ID, Galanis E. Inhibition of Rho ssociated coiled-coil forming kinase ncreases efficacy of measles virotherapy. Cancer Gene Ther. 2013 Nov;20(11):630-7
Msaouel P, Opyrchal M, Domingo E, Galanis E. Oncolytic Measles Virus Strains as Novel Anticancer Agents. Expert Opin Biol Ther. 2013 Apr;13(4):483-502
Allen C, Opyrchal M, Aderca I, Schroeder MA, Sarkaria JN, Domingo E, Federspiel MJ, Galanis E. Oncolytic measles virus strains have significant antitumor activity against glioma stem cells. Gene Ther. 2013 Apr;20(4):444-9.
Dickson AM, Anderson JR, Barnhart MD, Sokoloski KJ, Opvrchal M, Galanis E, Wilusz C, Morrison TE, Wilusz J. Dephosphorylation of HuR Protein during alphavirus infection is associated with HuR Relocalization to the Cytoplasm. J Biol Chem. 2012 Oct 19;287(43):36229-38.
Opyrchal M, Iankov ID, Aderca I, Schroeder M, Sarkaria J, Galanis E. Effective Radiovirotherapy for Malignant Gliomas by using Oncolytic Measles Virus Strains Encoding the Sodium Iodine Symporter (MV-NIS). Hum Gene Ther. 2012 April 23:419-427
Msaouel P, Opyrchal M, Galanis E. Translational research in oncolytic measles virotherapy: early discoveries and future steps. Future Microbial. 2011 Feb;6(2): 125-8.
Opyrchal M, Figanbaum T, Ghosh A, Rajkumar V, Caples S. Spontaneous tumor lysis syndrome in the setting of B-cell lymphoma . Case Reports in Medicine. 2010;2010:610969
Opyrchal M, Aderca I, Galanis E. Phase I clinical trial locoregional administration of the oncolytic adenovirus ONYX-015 in combination with mitomycin-C, doxorubicin, and cisplatin chemotherapy in patients with advanced sarcomas. Methods Mol Biol. 2009; 542:705-17.
Garneau N, Sokoloski K, Opyrchal M, Neff P, Wilusz CJ, Wilusz J. The 3' untranslated region of sindbis virus represses the deadenylation of viral transcripts in mosquito and mammalian cells. J Viral. 2008 Jan;82(2): 880-92.
Opyrchal M, Anderson JR, Sokoloski KJ, Wilusz CJ, Wilusz J. A cell-free mRNA stability assay reveals conservation of the enzymes and mechanisms of mRNA decay between mosquito and mammalian cell lines. Insect Biochem Mol Biol. 2005 Dec;35(12):1321-34.
Bergman N, Milone J, Bates EJ, Opyrchal M, Bellofatto V, Wilusz J. Assessing messenger RNA decapping in cellular extracts. Methods Mol Biol. 2004; 257: 181-92.
Opyrchal M, Bergman N, Bates EJ, Wilusz J. Analysis of the products of mRNA decapping and 3'-to-5' decay by denaturing gel electrophoresis. RNA 2002 Jul;8(7): 959-65.
Editorials, Letters to the Editor, Other
Opyrchal M. Reducing Errors During Patient-Care Handoffs. Oncology Fellows. Volume 3, Issue 4, December/January 2012.