Benefits of Corporate Partnerships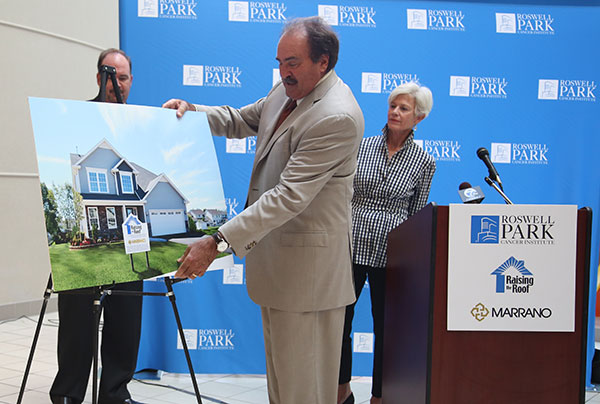 When your company becomes a Partner for a Cure, you have made the decision to support Roswell Park Comprehensive Cancer Center in its mission to understand, prevent and cure cancer.
Depending on the level of support, we can offer reognition benefits include:
Feature in Get Involved e-newsletter sent to donors and patients (130,000 people)
Social media posts (25,000+ likes Facebook / 13,000+ followers Twitter)
Story in Mission internal employee newsletter (3,400 employees)
Promotion through Yroswell newsletter and other marketing materials targeting youth audience (2,000 sent to schools in Western New York)
Use of Partners for a Cure/Roswell Park logos and name (as approved by Roswell Park)
Ad on hospital lobby electronic kiosk
Ad on Mission internal Roswell Park website
Article in One Mission in-hospital patient newsletter
If an annual event, the opportunity to establish a permanent Endowed Fund at Roswell Park that can impact cancer research and patient care programs for years
Engraved plaque on the Hospital Recognition Wall at Roswell Park
Private tour of Roswell Park
If funds are designated for a specific research project, company name listing opportunity on a reception plaque located in the hospital outpatient clinic most closely related to the donation
Press conference and/or check presentation
Did you know?
Brands aligning themselves with causes are not only securing more consumer consideration, but are also earning their dollars and support. Nearly half (47 percent) of consumers have bought a brand at least monthly that supports a cause, representing a 47 percent increase from 2010. Over the years, consumers have taken increased action on behalf of brands with Purpose:
The Edelman Good Purpose Study for 2012
39 percent increase in "would recommend" cause-related brands
34 percent increase in "would promote" cause-related brands
9 percent increase in "would switch" brands if a similar brand supported a good cause
Cone's 2012 Cause Evolution Study
83% of Americans wish more of the products, services and retailers they use would support causes.
80% of consumers are willing to switch from one brand to another brand that is about the same in price and quality, if the other brand is associated with a good cause. 
61% are willing to try a new brand or one they've never heard of if associated with a cause.