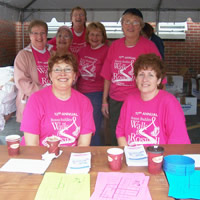 In September of 1992, longtime friends Doreen Mortimer and Bunkie Hawk decided that it was time they went for a mammogram. They decided they would go together for support. Unfortunately, their test results were not what they had hoped, as they were both diagnosed with breast cancer. While lying in the same hospital room, subsequent to enduring mastectomies performed by the same doctor, they decided that they were Bosom Buddies. The name stuck and became the name of a breast cancer support group founded in 1993.
The Bosom Buddies work to ease the fears of women newly diagnosed with breast cancer and support women whose breast cancer has recurred.
In 1995, the group decided to sponsor a walk to develop an information service for newly diagnosed women. Doreen worked tirelessly on developing the walk, which has raised more than $300,000 over the last 12 years.
Although Doreen's prognosis was poor from the start, she fought hard until her death in 1997. Bunkie Hawk, who founded and continues to chair the event in honor of her Bosom Buddy, advocates for the cause with current Bosom Buddies.
Doreen would be proud to see how much progress the WNY Breast Resource Center has made. It is the vision, dedication, and hard work of the Bosom Buddies that make this Center a reality.