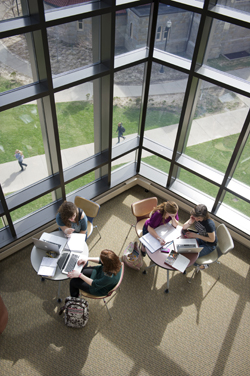 Out-of-town interns may either stay with relatives in the Buffalo area or in designated dormitory housing made available through the program (what better way for a high school student to get a real sense of college life!). Dormitory living is available at nearby Canisius College. Canisius College is a four-year liberal arts college. The campus is located along the Metro rail and bus lines, creating an easy 10-minute commute to and from Roswell Park Comprehensive Cancer Center.
Dugan Hall features the following amenities to provide a comfortable and safe living environment for interns:
Four-person suites with common bathroom
Common areas with adjoining kitchen facilities and cable television
Coin-free laundry facilities on each floor
Air-conditioning
24-hour security
Live-in resident assistant (RA)
Free Wi-Fi Internet access
2016 room rates were $30 per night. Out-of-town students will be informed of room rates for 2017 as part of the acceptance offer. Any potential room rate increases are not anticipated to be more than $1 – $2 per night.