Are you ready to update your skills?  It's time again for ROC Niagara!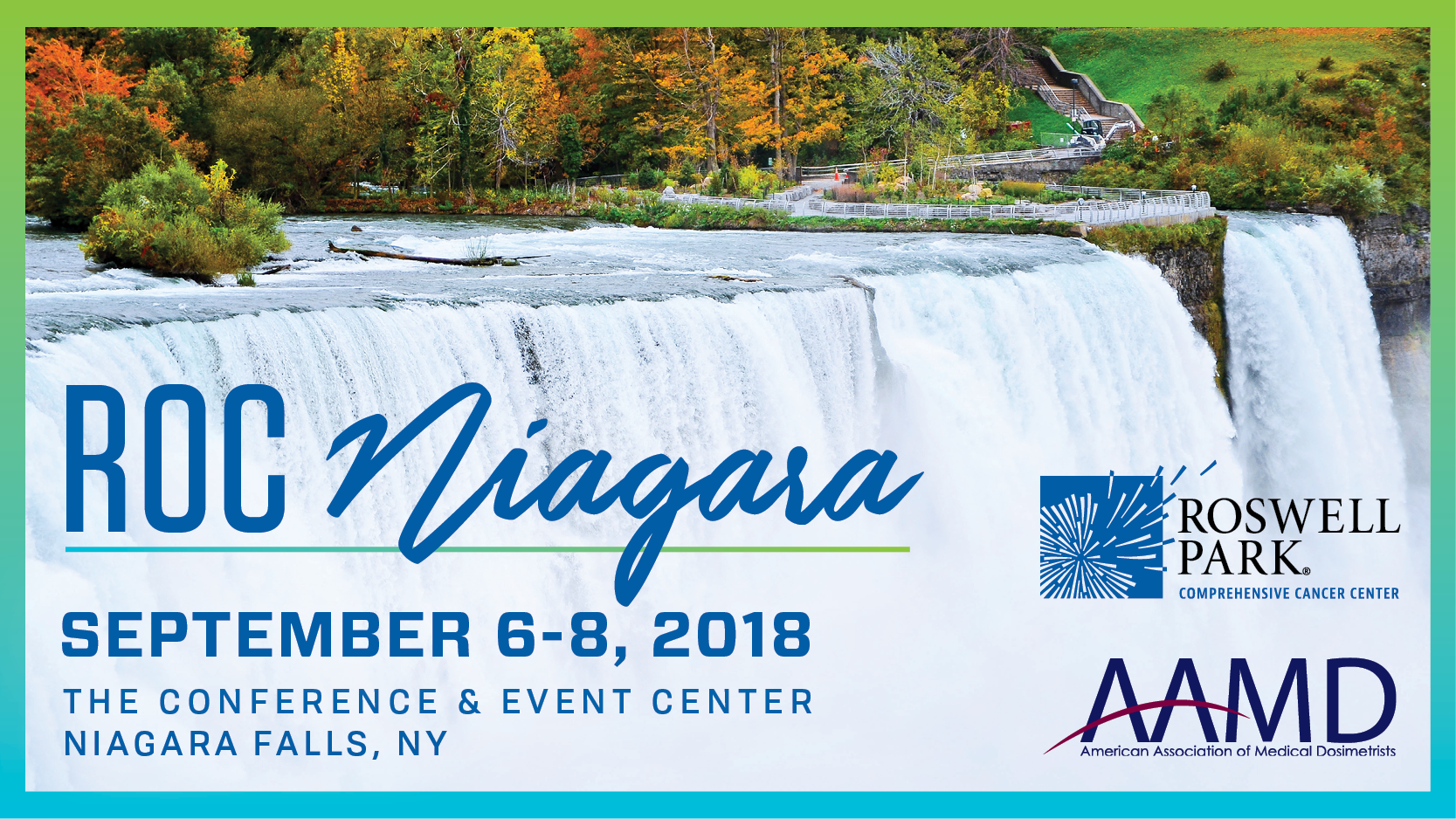 Bringing together radiation therapists and medical dosimetrists for the 18th year, the 2018 Radiation Oncology Conference (ROC), co-sponsored with AAMD, provides creative solutions and resources to address the day-to-day issues you face, introducing innovative breakthroughs in cancer treatment.
Network with colleagues and learn from experts about:
Increasingly complex and changing treatments
Treatment planning
Quality assurance
Patient safety
Clinical and administrative support issues
Plus, you don't want to miss this year's NEW Head and Neck Symposium on September 7!
Anurag Singh, MD will discuss decreasing need for narcotics in Head & Neck Cancer.
Mary Platek, PhD, MS, RD, CDN will present data on the change in muscle and fat distribution in relation to seven weeks of CCRT, and examine malnutrition risk results for the same population.
Andrew Ray, PhD is collecting functional assessment on the same patients and will present the data.
Rachel Hackett, CMD will offer techniques, tips & tricks for Head & Neck treatment planning.
Tracy Hails, RT(T) will discuss complications associated with set-ups and completing the full course of treatment. Additionally, she will present the issues that patients experience after the treatments are completed.
Back again in Niagara Falls, NY, this one-of-a-kind programming partnership between Roswell Park and AAMD provides a unique opportunity to obtain CE credit and work toward improving your professional practice.

After a stimulating day of learning, you can then switch from medical to geological exploration at awe-inspiring Niagara Falls, a natural wonder steps away from the Conference Center.
Quotes from 2017 Attendees:
"The wide variety of classes is really great because there are topics that are relative to both dosimetry and therapy, and that isn't always available at other conferences."
"This is a very well-planned conference and top of the line in learning new techniques and seeing new products."
"Excellent, quality content. Very warm, friendly atmosphere. The conference is always outstanding."
"I will definitely be recommending this meeting."  
"It focused on what we are doing in my clinic.  Each talk was relevant!" 
"Reasonably-priced and efficient way to obtain CEs."  
Date: September 6-8, 2018
Location: Conference & Event Center, 101 Old Falls Street, Niagara Falls, NY USA 14303
Target Audience
This program is designed for radiation therapists and medical dosimetrists.
Accreditation
This activity is approved for 14 MDCB CE credits (also valid for ARRT Category A credits).
Planning Committee
Roswell Park Comprehensive Cancer Center:
Patti Chapin, RT(T)
Senior Radiation Therapist
Liaison to the AAMD Annual Conference Committee
Lee Hales, BSc, CMD
Chief Medical Dosimetrist
AAMD President-Elect
Rachel Hackett, RT(T), CMD
Medical Dosimetrist
AAMD Secretary
American Association of Medical Dosimetrists:
Stacey Wilson
Executive Director
Cornelia Gallow
Director of Education
Stephanie Redfern
Member Services Manager
Directions
The Conference & Event Center
101 Old Falls Street
Niagara Falls, NY, USA 14303
If you have any questions, contact Denise Hammell at denise.hammell@roswellpark.org or (716) 845-5706.