2020 Radiation Oncology Conference for Therapists and Dosimetrists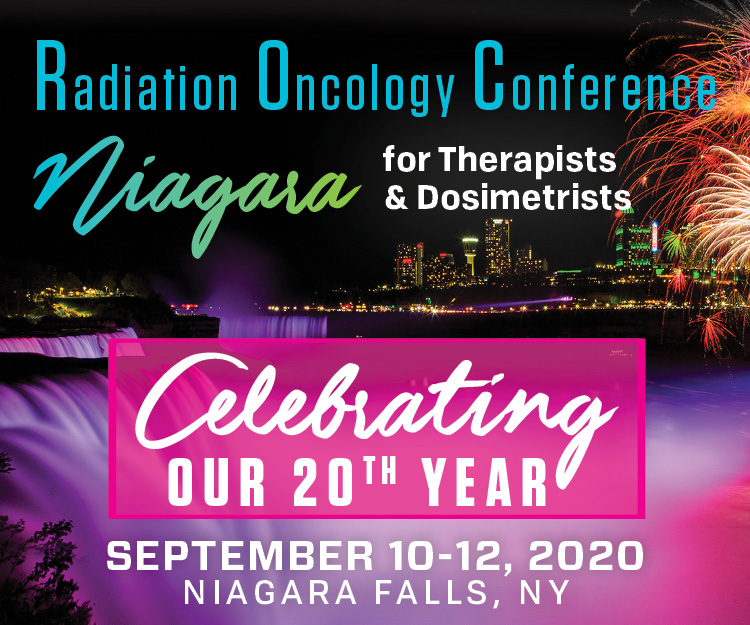 Celebrating 20 years! Roswell Park Comprehensive Cancer Center and its Department of Radiation Medicine, along with the American Association of Medical Dosimetrists (AAMD), look forward to welcoming you to Niagara Falls, New York as it hosts the 20th annual ROC Niagara Conference.
Each year, hundreds of our radiation therapy and dosimetry colleagues from around the United States and Canada attend this conference to learn about creative solutions and resources to address the clinical and administrative issues you face, and introduce you to innovative breakthroughs in cancer treatment.
You and your colleagues will learn from experts in radiation oncology about:
Increasingly complex and changing treatments
The latest research
Treatment planning
Quality assurance
Patient safety
Clinical and administrative support issues
There will be a tour of Roswell Park's Department of Radiation Medicine on Thursday, September 10, 2020, from 6 – 7 p.m. There are a limited number of spots available, so register early.  A bus will pick up the tour registrants from the Conference Center at 5:15 p.m. and bring them to Roswell Park. The tour is fun and informative and includes a look at our Gamma Knife Suite. It's a great way to start networking and meeting new colleagues. There is no charge for the tour, but registration is required and will open soon.  
Don't miss the SBRT/SRS Brain and Spine Symposium on Friday, September 11, 2020. 
Conference Details
Dates: September 10 - 12, 2020
Location: The Conference & Event Center, 101 Old Falls Street, Niagara Falls, NY
Conference Menu - Coming Soon
Registration Fees
Lodging & Transportation
For Exhibitors
Agenda & Speakers
Accreditation
14 MDCB credits anticipated (pending approval), also accepted by ARRT as Category A Credits.
---
As a wonderful networking event in a location with spectacular views of one of nature's natural wonders, September is a perfect month to experience Western New York.     
Niagara Falls, NY
Niagara Falls is a NY State city on the Niagara River,  known for the vast Niagara Falls which straddle the Canadian border.  In Niagara Falls State Park, within walking distance of your hotel, the Observation Tower at Prospect Point juts out over the Niagara Gorge for a view of all three waterfalls: Horseshoe, American, and Bridal Veil.  There are trails from the Niagara Gorge Discovery Center leading to other viewpoints, so make sure to pack your walking shoes.
Conference Site –The Conference & Event Center Niagara Falls
The Conference & Event Center Niagara Falls is located on Old Falls Street in the heart of downtown Niagara Falls. It is across the street from Seneca Niagara Casino and just 2 blocks from Niagara Falls.
It was built by the state of New York in 2004 after the old convention center was given to the Seneca Nation to become Seneca Niagara Casino. The casino is right across Third Street from the new conference center building.
Roswell Park Comprehensive Cancer Center, Buffalo, NY
A leader in cancer research, patient care, prevention and education, Roswell Park Comprehensive Cancer Center has made fundamental contributions to reducing the cancer burden since 1898.
With over 120 years of cancer experience, Roswell Park continues to grow and serve as a place of hope and healing.  More than 40,000 patients receive treatment in one of its facilities each year.
As one of only 51 comprehensive cancer centers in the nation designated by the National Cancer Institute, and an exclusive member of the National Comprehensive Cancer Network, Roswell Park has the important responsibility to lead the way forward, advancing innovative therapies, training the next generation of cancer experts and educating and reaching out to serve our extending community.
Roswell Park occupies 25 acres on the Buffalo-Niagara Medical Campus in downtown Buffalo, NY, and is Upstate New York's only National Cancer Institute-designated Comprehensive Cancer Center.
Location
The Conference & Event Center
101 Old Falls Street
Niagara Falls, NY, USA 14303
Questions?
If you have any questions, contact Denise Hammell at denise.hammell@roswellpark.org or 716-845-5706.