Short-term (one week) FSRS Training Schedule (40+ hour week)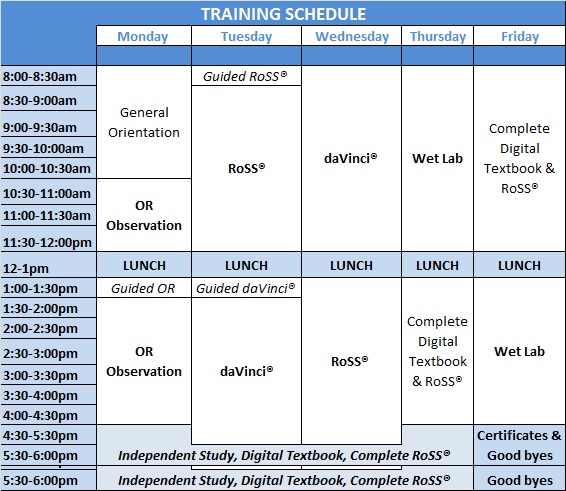 One Week FSRS Program (Approximate time for each part of the program)
This is a flexible schedule that can be adjusted according to your needs:
Orientation: 2 hours
Operating room observation: 4 hours
Simulation curriculum: 8 hours
Surgical robot curriculum (not including final evaluation lab): 8 hours
Final evaluation lab: 4 hours
Digital textbook: 4 hours
*During the registration process, ask about arranging for multiple final-evaluation labs. (Labs must be booked no less than four weeks prior to your start date.)
*If you have opted to not have a final evaluation lab at the conclusion of your program, you will be given Friday as a free day for building your observation or practical skills.
Extended FSRS Training Program (40+ hours/week)
If you would like to add days or weeks to your program, please contact the ATLAS staff and we will be happy to arrange extended training. Prices may vary, depending on your specific training interests (operating room observation, simulator time in the training lab, or additional dry or wet lab days).