The ATLAS Training Laboratory
The ATLAS self-navigating lab includes a short introduction by our expert lab professionals. The user-friendly lab manual provides all instructions and reading required to easily navigate the lab and use the stations. Swipe-card entry to the lab gives you access 24 hours a day, 365 days a year to accommodate your busy schedule.
Stations:
Laparoscopic Training Boxes
Fundamentals of Laparoscopic Surgery (FLS) training boxes and the corresponding curriculum help trainees perfect their skills using laparoscopic tools in timed, practical exercises.
LapSkills® Simulator
Using augmented-reality-based training, the LapSkills® Simulator develops trainees' skills with laparoscopic tools, moving up from basic concepts to complex procedures.
EBUS Simulator
The case-specific curriculum, which incorporates training guidance from secondary external views and prompts, provides training with feedback for upper and lower GI scopes.
Ultrasound with Prostate Model
This station enables trainees to practice a prostate ultrasound using a real ultrasound machine with an inanimate prostate model.
RoSS®
The RoSS® delivers augmented-reality-based training that gradually builds trainees' skills on the surgical robot console, from basic concepts to complex procedures.
The ATLAS Innovation Lab
The ATLAS Innovation Lab provides ATLAS engineers — and partner engineers from such local institutions as the University at Buffalo (UB) — with the resources to develop new medical technologies and procedures and update existing ones. The lab provides both the necessary physical resources and a home base where engineers can work in close cooperation with the multidisciplinary ATLAS team.
The RoSS® simulators (now sold worldwide), patient-education application tools, and many patented medical technologies are just a few of the many types of innovations produced collaboratively at ATLAS.
ATLAS Offices and Conference Room
The ATLAS offices house researchers from different fields, fellows, MD and PhD interns, a medical illustration studio and a conference room. This shared space promotes multidisciplinary discussion and collaboration, which inspire innovation and the speedy creation of polished products.
The ATLAS Computer Lab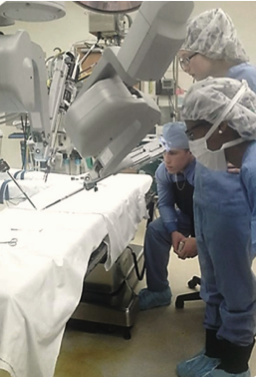 Separate from the laboratory and office, the ATLAS computer lab provides a relatively secluded space where trainees can complete the training curriculum's digital textbook or take care of unrelated work. Lockers are available for securing personal items during your days at RPCI.
Surgical Robot Lab
The Surgical Robot Lab is a restricted-access area, available only when you are escorted by an authorized staff member. During a two-week training program, you can expect to spend at least three days working in this lab to develop your proficiency with the surgical robot. The Surgical Robot Lab houses a da Vinci Surgical System (dVSS®) that is used exclusively for training.
The dVSS® final evaluation will take place in this fully functioning operating room. An ATLAS team member will serve as a bedside assistant and robotic technician for the duration of the procedure.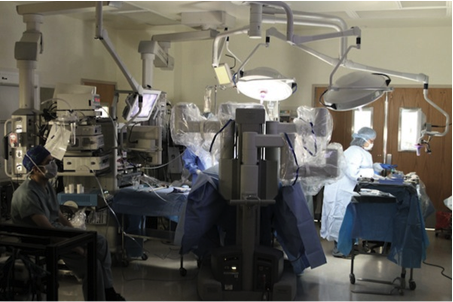 RPCI Hospital
ATLAS is located at RPCI, so the hospital's resources are available for your use. You will complete your OR observation in the main hospital, where the latest dVSS® robots are used by RPCI's experienced staff.
The Institute is also home to a large medical library on the third floor of the Research Studies Center.