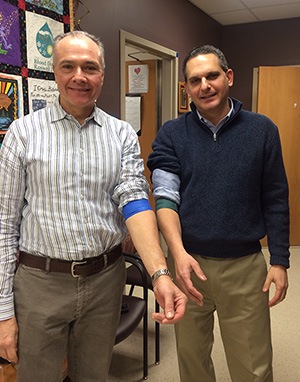 What started out as a gesture to help Rich Barnes and his family during a difficult time, has become a long-standing and routine practice for the folks at law firm Cellino & Barnes. When Rich's wife, Deb Sorbini, began needing blood and platelet transfusions as part of her treatment at Roswell Park, many of Rich's colleagues were eager to help. Sadly, not long after the team rallied around her, Deb lost her battle with cancer.
Even when their donations could no longer help Deb, the Cellino & Barnes donors kept coming — several of the original group still donate today. As the years passed, new donors became part of the excitement on "donation day" here at RPCI. And today there is a nice blend of "old and new" coming in several times per year to donate blood and platelets. The group of donors is comprised of firm attorneys and support staff.
Hollie Bianchi enjoys the camaraderie of coming with her co-workers and truly appreciates that the blood products they donate stay right here to help patients at Roswell Park.
Michele Floyd tells us it had always been her family's tradition to donate blood and she always knew she would follow in those footsteps, adding, "You just never know when you might need help and I want to help those who need me now."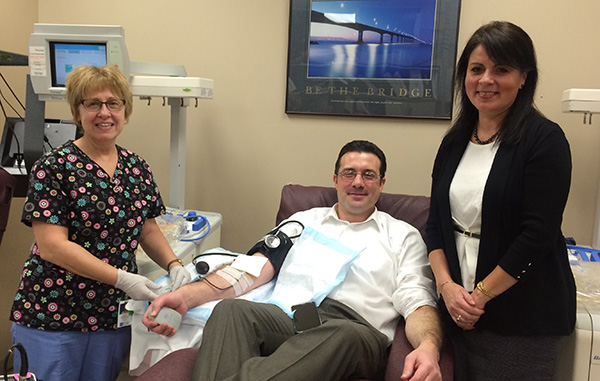 First-time donor Darryl Kowalik expressed, "As you mature your focus begins to shift and all of a sudden you realize life is not just about you. You see the big picture and it compels you to give back in ways that are meaningful, such as donating a life-saving blood product."
"The process was painless but the feeling was priceless," added Darryl.
Jack Murrett, Esq., said, "It takes very little time to do such an important thing. I never see this as an inconvenience. It's just something I enjoy doing."
"It's a very basic thing to do but with such a tremendous impact on others," added Christopher D'Amato, Esq. "Everyone at RPCI is extremely professional and they take excellent care of us."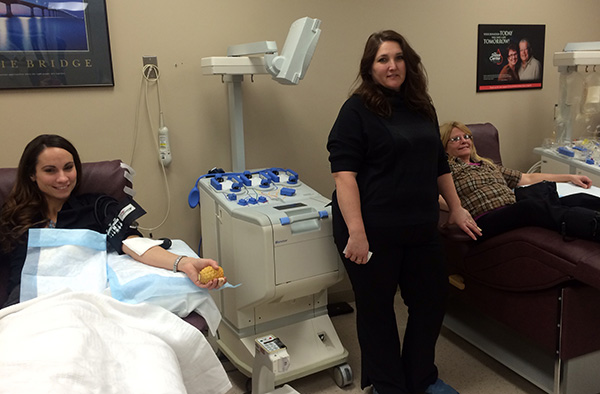 "I pay attention to how many people are in the waiting room and it makes me realize how many people need our help," said Sheila Polak. "I often wonder if my donation went to one of those people or their family members. It's an amazing feeling."
Steve Ciocca, Esq., — a donor since 2008 — said, "Donating is a small price to pay for the privilege of helping others in such an important way. We are all busy, but once in while it's important to do an unselfish thing especially when it means so much to people in our own community."
Drive Coordinator Annette Kellogg enjoys her role in coordinating this drive and appreciates the long history of donations. She embraces the challenge of picking up some new donors along the way. "It's a wonderful cause Cellino & Barnes is happy to support."