Cancer isn't just one disease. So why should you get your cancer information just one way?
Stay connected with Roswell Park, your way. Get the latest cancer advances, updates and insights from Roswell Park in the formats you most prefer. Read, watch, listen, discuss and stay informed.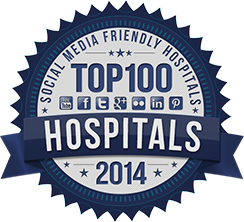 Roswell Park was named to NurseJournal.org's list of Top 100 Social Media Friendly Hospitals in 2014.
CancerConnect
For everyone whose life has been touched by cancer—you do not need to be a RPCI patient to join us. It is a place where you can safely voice your ideas, thoughts, and concerns; benefit from the experience of others facing the same disease; and most importantly, realize you don't have to feel alone.
Cancer Talk
Cancer Talk Blog: Get the straight talk about cancer from the experts at Roswell Park Cancer Institute. Our specialists will share the latest insights, advice and resources on the cancer topics that you want to hear about.
Learn more about Roswell Park and engage us through our online communities