Project Best Life: Be the Happiest, Healthiest You
What is Project Best Life?
As a cancer patient, survivor or caregiver, you know how precious life is, and how it can be flipped upside down at a moment's notice. We all know how important it is to live life to the fullest as much as possible. And, although we also know that unhealthy behaviors can cause devastating diseases, putting health into practice is easier said than done — especially for those in their 20s and 30s who are dealing with unique challenges.
Are you in your 20s or 30s and want to contribute?
Fill out this form for more information.
The blogs and podcasts published through Project Best Life, a new Roswell Park website launched this year, will empower young adults to take control of their lives, and take tangible steps to be their healthiest and happiest selves.
Millennials can get a bad rap, but in reality, this generation is a powerhouse filled with passionate individuals who crave content and information about physical health, mental health, fitness, nutrition, volunteering, advocacy, fundraising and more.
Project Best Life aims to engage this generation, long before they may even be thinking of cancer, by speaking their language and providing valuable tools. Blogs feature stories and inspiration from millennials in our community, as well as access to Roswell Park resources, like our screening assessment form.
We encourage you to read, subscribe, follow us on Facebook (@ProjectBestLife), like us on Instagram (@projectbestlife716) and share this with your friends and family!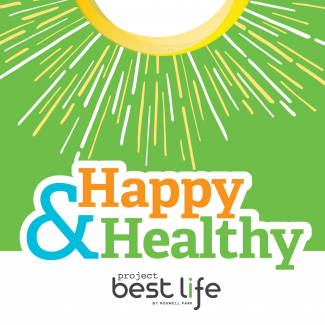 Happy & Healthy Podcast: Season 2 Out Now
Fad diets, coping with holiday stress and more! Get advice from experts wherever podcasts are found, including Apple Podcasts, Google Play and Spotify.