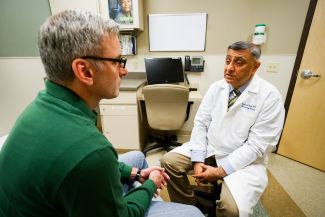 All in the Family: Event Explores Broad Effects of Prostate Cancer
More than 183,000 men in the United States are diagnosed with prostate cancer each year. If you've been told you have prostate cancer, you know the diagnosis affects both you and your family. How can you cope with the challenges together, through treatment and beyond?
You're invited to bring your loved ones with you for a Prostate Cancer Symposium Saturday, Oct. 27, from 8:30 a.m.-1:30 p.m. at the Adam's Mark Hotel, 120 Church Street, in downtown Buffalo. Two former NFL players will be on hand to discuss their experiences with prostate cancer. Gurkamal Chatta, MD, Clinical Chief of Genitourinary Medicine at Roswell Park, will be among the prostate cancer experts discussing the latest research, treatment options and other information you need. 
Space is limited for this event, which is free and open to the public. Breakfast will be provided. Reserve your place by calling 1-800-ROSWELL (1-800-767-9355) or register online here. 
The event is sponsored by Roswell Park in conjunction with the Western New York Prostate Cancer Awareness Collaborative, which includes the Buffalo Bills Alumni Foundation's Cure the Blue program, Men Allied for the Need to Understand Prostate Cancer (MANUP) and Us TOO.