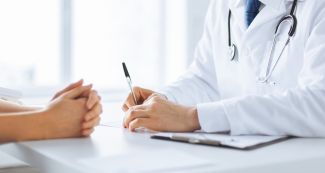 Getting a Second Opinion: What to Do If You Disagree with Your Doctor
When faced with a life-changing diagnosis such as cancer, many patients may wonder whether to seek a second opinion, especially when facing major surgery, treatments with severe side effects or an uncertain outcome. What if you're not happy with your doctor's diagnosis? Is the recommended treatment really your best option? What if your doctor is wrong? Is your doctor not listening to you? What if you just don't like your doctor?
"If you have a gut feeling that something is wrong, or if you simply don't click with your doctor, there's no harm in getting a second opinion," says Kara Eaton-Weaver, patient advocate and Executive Director of Patient/Family Experience at Roswell Park Comprehensive Cancer Center. "The right doctor will want you to feel as if you're getting the best possible treatment, and that includes finding a provider you're comfortable with."
Sometimes problems between patients and doctors are due to clashing personalities, and you just need to find a provider who's a better fit. Other times, the issue is miscommunication. Clear communication is essential, particularly if you're unhappy with the diagnosis or reluctant to move forward with your recommended treatment plan.
In most cases, it is safe to take the time to get a second (or third) opinion. In fact, doing so may help you learn more about your options and diagnosis, become more confident about your treatment decisions and find the doctor who's right for you. The right health care provider will want the best available care for every patient. He or she will also take the time to listen to any concerns you may have.
Whether you're unhappy with your doctor or your diagnosis, check with your insurance company before getting that second opinion. Most insurance plans do cover this option, particularly when surgery or another major medical procedure is recommended.
Never miss another Cancer Talk blog!
Sign up to receive our monthly Cancer Talk e-newsletter.