Big Hearts Come in Small Packages
Pictured:
Hannah, left, with her blanket donation and Lucas, right, with his art supply donation.
Giving back to a cause you care about is one of the most rewarding experiences life has to offer.
It's extra special when the youngest members of our community embody this charitable spirit. Two Western New York elementary school students, along with many others, recently showed all of us at Roswell Park what it means to have huge hearts and a strong work ethic.
Meet Lucas
Lucas is an inquisitive six-year-old boy who attends elementary school in Amherst, NY. He's sensitive, caring and always wants to help others.
"Lucas has a fun, goofy personality and is constantly trying to make people smile and laugh," says his mom, Megan.
Those traits were all evident in his recent birthday party request. The 1st grader asked his friends not to give him presents, but rather to bring art supplies that he could then donate to Roswell Park's Creative Arts Team. His family and entire class all rallied together and were excited to help.
Lucas first wanted to do something good when his class learned about being a "bucket filler" instead of a "bucket dipper." This message resonated with him and inspired Lucas to take action and help cancer patients.
"He felt great about what he accomplished. We took him down to Roswell to deliver all of the supplies. We wanted him to see where his items were going so that he knew he was making a difference and his items were going where he planned on them going," said Megan.
When Lucas grows up, he wants to be a doctor. He's off to a great start, already getting involved in helping patients at such a young age!
Never miss another Cancer Talk blog!
Sign up to receive our monthly Cancer Talk e-newsletter.
Sign up!
Meet Hannah
Hannah, a five-year-old Northwood Elementary student, was motivated to take action when she witnessed her grandmother going through chemo treatments at Roswell Park.
"When she saw what all the patients had to deal with, she wanted to do something to help them feel better," explains Hannah's mom, Katie Fernandez. "We always encourage her to think about others and do what she can to spread joy."
It was that lesson that led to Hannah joining her mom and grandmother in making blankets and scarves for the patients at Roswell Park. The three generations united to give back to the hospital and Hannah was her usual bubbly self when she carried their load into the Roswell Park Resource Center for Patients and Families.
A Lasting Impact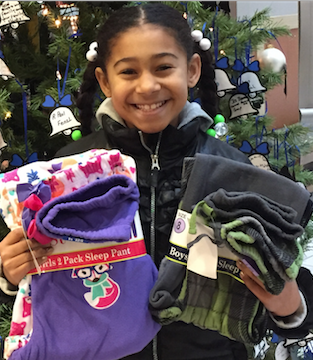 "It doesn't matter your age; kindness comes from donors of all kinds. The fact that these children are so selfless at only five or six years old is, to me, a source of hope for the future. It inspires so many other kids and parents to get involved as well. And, of course, all our patients are so appreciative that children they don't even know are out there thinking of them," says Cathleen Allen, Resource Center Coordinator at Roswell Park.
If you know a student who wants to support cancer patients and research at Roswell Park, email Yroswell@roswellpark.org.