A Snowy Owl and a Moment to Pause
Pictured:
Out on the water, "you stop, you think, you notice more of what's around you," says Robertson. "You become part of your environment."
Perched on a steel pontoon in the Niagara River, a snowy owl gazes directly at the viewer, curious but cautious, during a brief stopover on a winter flight.
Seen through the lens of Buffalo photographer Laird Robertson, the serene and magical moment is captured in a photo now on display in the Scott Bieler Clinical Sciences Center at Roswell Park.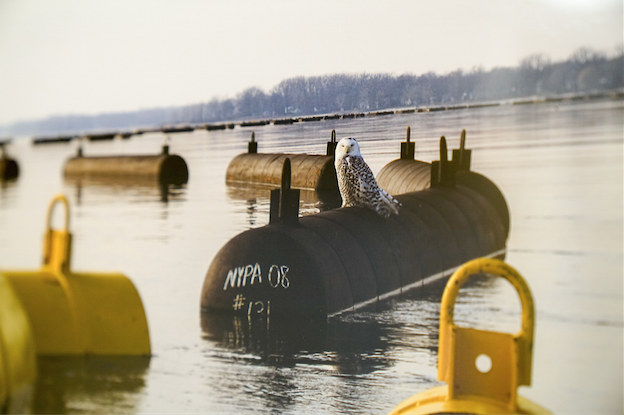 The owl is one of many happy surprises Robertson has experienced while paddling the waters around Buffalo. He's not only a photographer but also the founder of the Buffalo Surf Club. He defines surfing as "all sports where people harness a wave's energy," whether skimming the waves in a kayak or canoe, or on a surfboard or kiteboard — and yes, you can do that in Buffalo.
Always eager to catch a wave along the waterfront, sometimes he launches his small whitewater kayak "when big storms roll in. There's a spot at the end of the northernmost breakwall, right above the mouth of the Niagara River, where the big lake waves roll in and crash. The wind, the waves, the solitude — it's amazing!"
On one occasion, while surfing near a beach he calls Bird Island — a favorite place for nesting cormorants and flocks of seagulls — he saw a fox trotting along. It stopped at the edge of the water and sat down to watch him. "I was surfing these huge lake waves, looking at our beautiful city, and a fox was watching me!" he recalls with joy.
Robertson loves the serenity of "early paddles before work, before the water becomes crowded with people and boats. In the morning, the water is super flat and calm. And if the lake freezes over in the winter and you paddle out at the end of April, you can watch the ice move and listen to it crack. It's a surreal experience."
Of course, not everyone has the skill or opportunity to reach those out-of-the-way spots, so Robertson records his adventures in photos for others to enjoy. He hopes the snowy owl photo will convey "a feeling of calmness and relaxation" for cancer survivors and their loved ones. "I want them to be able to pause as I paused out on the calm lake," he says, "and maybe for a second forget what they are going through."
He knows firsthand how a cancer diagnosis can affect both patient and family. In January of 2005, after learning that his father had cancer, he left college in Montana and returned home to Buffalo. Photography became his solace when his father died just three months later.
His father's illness and death "gave me inspiration," he says. "Losing my father taught me to have greater respect for other people, because you don't know what they're going through.
"I'll always be out there taking photos — on the lake, in the mountains, or walking through Buffalo. I love to share my experiences with people who may never get a chance to see what I've seen or go where I've gone.
"I know my father would be proud of me for that."
Editor's Note: Cancer patient outcomes and experiences may vary, even for those with the same type of cancer. An individual patient's story should not be used as a prediction of how another patient will respond to treatment. Roswell Park is transparent about the survival rates of our patients as compared to national standards, and provides this information, when available, within the cancer type sections of this website.