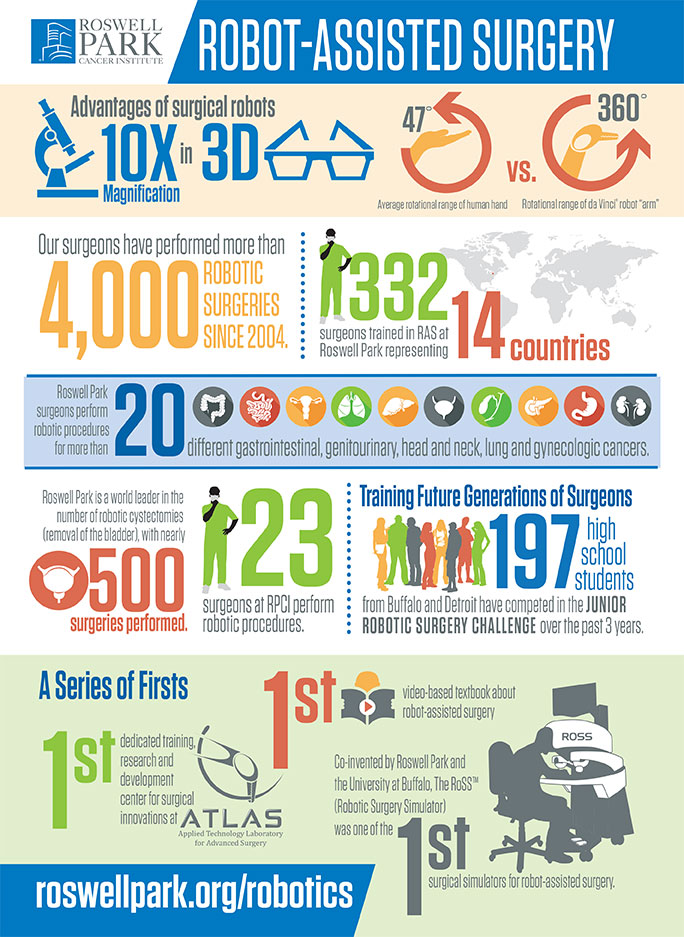 In 2004, Roswell Park became the first facility in the Buffalo Niagara region to offer patients the option of robotic prostatectomy. Today Roswell Park offers robot-assisted surgery (RAS) for treatment of bladder, colorectal, gynecologic, head and neck, kidney, and thoracic cancers. RAS is associated with better quality of life for patients, including those who undergo cystectomy – removal of the bladder.
Smooth Operations
When considering a robot-assisted surgery keep in mind that studies show patient outcomes are associated, in part, with the number of RAS procedures a surgeon performs. With more experience, the surgeon sees more variations in patient anatomy and in the disease processes, making it easier to handle a range of unexpected issues that may arise during surgery. Consistent high volume translates to a smooth operation with:
Decreased operation time
Less blood loss
More flexibility
3-D, 10x magnified image of the surgical site
Greater precision due to an elimination of surgeon hand tremor
Roswell Park surgeons have performed more RAS cystectomies than any other center in the world and have pioneered several RAS techniques focused on bladder cancer.
Practice Makes Perfect
The Robotic Surgery Simulator™ (RoSS) is a system similar to the flight simulators used to train pilots before they first take off with a plane full of passengers. The RoSS was created by experts from Roswell Park's Center for Robotic Surgery and the University at Buffalo's Mechanical and Aerospace Engineering Department.
Surgeons from around the world now come to Roswell Park every year for intensive, specialized training at its Applied Technology Laboratory for Advanced Surgery (ATLAS). Since the program began in 2008, 332 surgeons have received either introductory or remedial instruction at ATLAS before returning to their home hospitals to start up or revive their RAS programs. 
Training Tomorrow's Robotic Surgeons
For the past three years, Roswell Park's annual Junior Robotic Surgery Challenge has given some 200 high school students a chance to explore RAS through classes and hands-on instruction in simulated surgeries. By giving students this experience, Roswell Park is providing advanced RAS training not only for today's surgeons but also for emerging generations of health professionals.