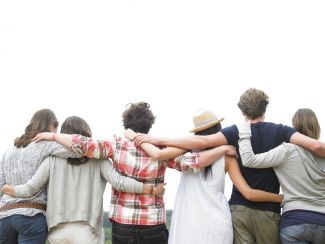 Celebrating Life After Cancer
"Cancer may have taken my hair and my plans, but it reminded me of life's greatest gift – the people around me."

When people ask how I am doing or what my cancer experience was like, I struggle to find the words.
I struggle because everyone has been touched by this devastating disease. They themselves may have fought cancer, lost a loved one too soon, met someone whose life was changed by the disease, or rallied behind a stranger through social media. We are all incredibly connected and aware of struggles and celebrations in the lives of others.
With so many being impacted by cancer, what makes my story special or any different? Who am I to share my story when in my mind I am just another lucky survivor graced with a second chance?
But looking back, I feel my story is different. It is different because of the people. The incredible people that shared in this journey with me. Medical professionals, family, old friends, new friends, and lost friends all shaped the new person I have become. Small pieces of their hearts and talents make me who I am today.
When I arrived at Roswell Park Comprehensive Cancer Center on July 14, 2015, almost one year ago, I did not think I had room in my heart for any more people. I had the best of friends, amazing coworkers, and a strong family. Leukemia challenged me mentally, physically, and emotionally in ways that I never really imagined. But it also opened my heart and led me to some of the most incredible people I have ever met.
For the first time in my life I could only see beauty in all people that I met. I loved deeper and wanted more for myself and others.
Now, nearly six months after completing my treatment, I look back and I am thankful for people and their role in getting me through what will hopefully be one of the most difficult chapters of my life. Cancer may have taken my hair and my plan for age 25, but it reminded me of this life's greatest gift – the people around me.
I pray that these companions will allow me to be a part of their joys and sorrows, the good times and the bad, just as they have for me. As a grateful survivor, one goal I have set for my life is to take time for those around me. I want to learn from them, give kindness and thanks for the people they are, and ask for help when I need it. I challenge others to do the same. With or without cancer or hardship, take time each day to celebrate your life and appreciate your people.
Editor's Note: Cancer patient outcomes and experiences may vary, even for those with the same type of cancer. An individual patient's story should not be used as a prediction of how another patient will respond to treatment. Roswell Park is transparent about the survival rates of our patients as compared to national standards, and provides this information, when available, within the cancer type sections of this website.