Turning Your Late Harvest Veggies Into a Pasta Sauce with Power
Monday, October 7, 2013 - 11:43am
Very soon, our local farmers' markets will be switching out their seasonal offerings. So now is the perfect time to take advantage of those remaining fresh tomatoes, zucchini and other summer favorites to create a meal that's both delicious for your family and guests, and also full of cancer-fighting nutrients.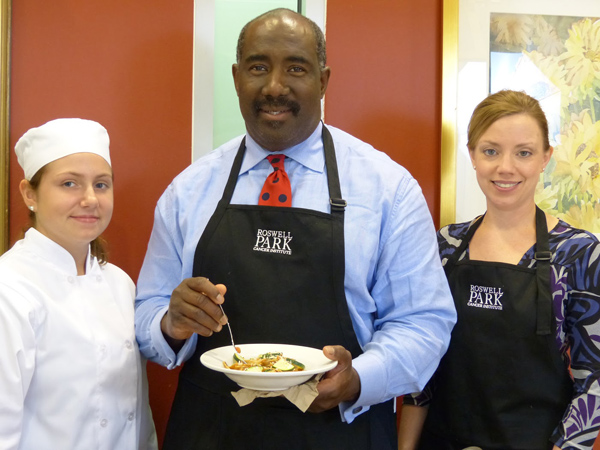 Tomatoes are an excellent source of lycopene. Lycopene is what gives some fruits and vegetables, like tomatoes, watermelon, and pink grapefruits their rich, red color. 
Numerous studies have shown a relationship between diets rich in lycopene with a lower incidence of cancer – particularly cancer of the prostate.
Processing tomatoes with heat/cooking (such as tomato juice, ketchup, or canned tomatoes) actually changes the lycopene into a form that is easier for our bodies to use.
So without further ado, we offer the following healthy and delicious way to take advantage of the lycopene factor, while using up those favorite summer fresh vegetables. Bon appetit!
Zucchini & Parmesan over Tomato Basil Fettuccine 
(Recipe courtesy of Pappardelle's Pasta)
Serving Size: 4-6
Instructions:
Cook pasta in a pot of rapidly boiling salted water until al dente (about 8-10 minutes). Rinse and drain.
Heat olive oil in a large skillet, add zucchini and cook 2 minutes.
Add garlic and tomatoes. Cook until well heated, about 3 more minutes.
Add Parmesan cheese, parsley, basil and lemon juice to sauce.
Serve immediately over individual plates of pasta.
Season with sea salt and freshly ground black pepper, if desired.
Recipe Ingredients:
1 lb. Tomato Basil Fettuccine
3 medium zucchini, thinly sliced rounds
2 tablespoons Extra Virgin Olive Oil
4 cloves garlic, minced
2 tomatoes chopped or 1 (14 oz.) can of diced petite tomatoes
1 cup freshly grated Parmesan cheese
2 teaspoons parsley, chopped
1/4 cup basil, chopped
1/2 lemon, juiced
Sea salt
Freshly ground black pepper