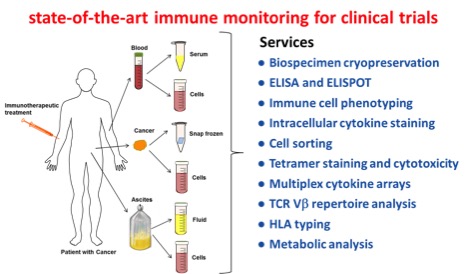 The Immune Analysis Facility (IAF) is responsible for serial monitoring of immunologic functions in patients with cancer, those who are treated with biologic therapies, and those who participate in clinical trials or research protocols at Roswell Park and other sites.
The development of immune-monitoring assays is essential to determine the immune responses in patients receiving novel immune therapies and ultimately transitioning these therapies from the clinical trial phase to standard of care.
The IAF makes available to its users a broad range of state-of-the-art immunologic assays, performed under a rigorous quality-control program. In addition, as advances in immunobiology occur and new assays are requested by the users, the IAF performs preclinical evaluations of the assays and, when they become reliable and standardized, adds them to the available assay list.
Equipment
CTL Core 6 ELISPOT reader
BioTek Synergy HT microplate reader
Seahorse Xfe 96 Extracellular Flux Analyzer
Helios, a CyTOF System - for Mass Cytometry
Laser Ablation Module - for Imaging Mass Cytometry
Staff
Pawel Kalinski, MD, PhD
Director
Phone: 716-845-4106/a>
Email: Pawel.Kalinski@RoswellPark.org
Courtney Ryan, MS
Research Technologist – PBMC/serum isolation, DNA/RNA extraction, gene expression by qPCR and RT-PCR, HLA typing, ELISA
Phone: 716-845-6555
Email: Courtney.Ryan@RoswellPark.org