BMT & Cellular Therapy for Canadian Patients | Catherine's Story
From One Canadian Patient to Another
Dear Fellow Patient,
I am a family doctor from the Toronto area, and I am very concerned about the number of patients who are on the waiting list for stem cell/bone marrow transplantation (BMT) in Ontario. I am worried that their diseases are dangerously progressing while they wait. Many on the list are eligible for provincially funded transplants in the United States, yet some are reluctant to seek treatment outside of Canada.
I would like to tell you about my recent stem cell transplant at Roswell Park Comprehensive Cancer Center in Buffalo, New York. I am sharing my experience to give you the information you need to make a well-informed decision.
My Story
In the fall of 2015, I was diagnosed with a rare blood cancer. I urgently needed a stem cell transplant. Ontario hospitals were unable to schedule a transplant quickly enough to give me the best chance of survival. Like many other patients, I was put on a waiting list. While I waited, I looked into other options and applied for provincial funding to go to Roswell Park for the transplant. I was accepted, and I have never regretted that decision.
I was admitted to Roswell Park in February 2016. Like most BMT patients, I was told that I would need to stay in Buffalo for several weeks after my stem cell infusion. Roswell Park wants patients to stay close to the hospital, accompanied by a caregiver, because after discharge they will need frequent outpatient follow-up, blood work, and easy access to emergency management if required.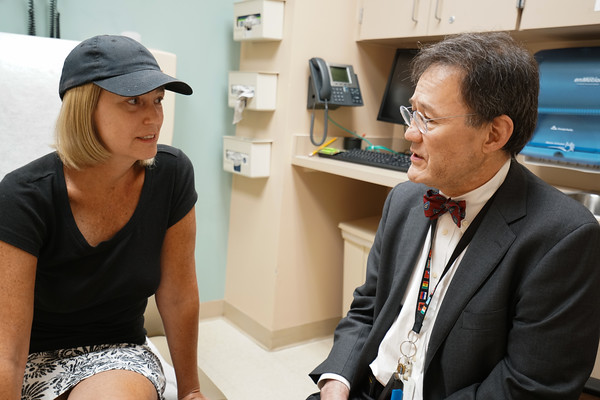 About Roswell Park
I was very pleased with my experience at Roswell Park. The hospital is a clean, well-run facility with staff who are professional, efficient, and friendly. From the first meeting with my Roswell Park BMT coordinator, right through to my admission and after-care, the process was seamless.
The staff, including the doctors, nurses, clerks, pharmacists, and physiotherapists, were well-informed, supportive, and rarely rushed. The nurses and their assistants seemed to really enjoy their jobs. They made me feel welcome and well cared for. They truly seem to have your best care at heart.
My time as an inpatient flew by. Despite being away from home, I never felt lonely or alone.
Inpatients undergoing bone marrow transplants generally stay on the BMT floor. Each patient has a private room with highly purified air, private bathroom, WiFi, and TV (with two Canadian stations!).
The food was pretty good, for hospital food. Patients order from a menu and can order as often, and as much, as they care to eat. A microwave and fridge/freezer for patient use are also available in the BMT Center.
Physiotherapists make frequent inpatient visits, and there are exercise machines available to help you maintain your strength during treatment. Dietitians, pharmacists, social workers, spiritual care staff and other staff members provide additional services during your hospital stay.
After Transplant: What You Need to Know
Admittedly, it was hard to be away from home, family, and friends. I know that accommodation and caregiver issues are a huge concern for many people. Remember that patients do not need a caregiver during their hospital stay — only after discharge from the hospital. I had several different friends and family members fill the caregiver role, usually for a week at a time, and Roswell Park was fine with that.
Buffalo: Surprisingly Wonderful
Overall, I found Buffalo to be a surprisingly wonderful city. It has amazing architecture, a lively waterfront, and delightful, walkable neighborhoods with interesting shops and restaurants. The roads never seem too busy and the grocery store prices seem reasonable, with some foods even less expensive than at home. I felt safe in the city and enjoyed exploring it.
Final Thoughts
I was thoroughly impressed with the care I received at Roswell Park. I am so glad I did not stay on the long BMT waiting list when both provincial funding and appropriate facilities were available here in the States. I encourage other patients who cannot access timely treatment in Ontario to consider traveling to the U.S. for their transplant.
Roswell Park did not ask me to promote their program. My concern is that there are so many people on the Ontario waiting list for BMT. I know that choosing to leave Canada for treatment is a huge decision. If you are facing that choice, I hope that learning about my experience will help you make this important decision so you can access care more quickly.
If you have been given the option to receive treatment in the United States, I encourage you to consider it. It may save your life.
Sincerely,
Catherine Spence, MD