As the nation's first cancer center, Roswell Park has more than a century of experience in understanding and meeting the needs that often arise after a diagnosis of cancer.
Adolescent & Young Adult Patients
Special services for Adolescent & Young Adult (AYA) cancer patients are available, including information and counseling on such issues as health insurance and methods of preserving fertility, which may be affected by cancer treatments.
Advance Blood Draw
Reduce the time you spend waiting at your next scheduled appointment—get your lab work and radiology tests done in advance. Roswell Park offers various lab work locations! Choose from three Roswell Park locations, or take advantage of our partnership with Catholic Health System, which allows you to select from three additional suburban locations. Schedule now in your Care Center or call 1-800-767-9355 (1-800-ROSWELL)
Assessment and Treatment Center
The Roswell Park Assessment and Treatment Center (ATC) is open Monday through Friday from 9 a.m. to 9 p.m. (last patient intake at 8:30 p.m.)* and weekends from 9 a.m. to 5 p.m. (last patient intake at 4:30 p.m.)*.
This patient care service supports our current patients with immediate but non-life threatening symptoms during the day and when our clinics are closed. Please know that this is not a walk-in clinic and does require a referral from your Roswell Park physician or the physician-on-call.  If you are experiencing non-life threatening symptoms, you should call your Roswell Park clinic. If your clinic is closed, call Roswell Park at 716-845-2300.
*Note that if you are experiencing non-life threatening symptoms after the ATC closes, you should still call us at 716-845-2300. There is always a physician on call to help you.
BMT Caregiver Orientation
Each family of a BMT patient participates in one two-hour workshop held in the hospital for patients and caregivers. Bi-weekly orientation sessions are held for families facing both autologous and allogeneic transplants. Several topics are covered during this orientation, including all aspects of the transplant and post-transplant medical issues, coping with emotional, physical, and sexual issues, finances, spirituality, and issues the caregiver may encounter while taking care of the patient. Patients and families receive a personalized care manual developed by the Department of Psychosocial Oncology to assist you during your care giving duties.
BMT Resource Family Program
Our BMT Resource Family Program matches the families of former BMT patients with the families of current BMT patients based on disease type, transplant type, and other characteristics. The insight and advice of those who have already been through the BMT process can be a strong source of support and encouragement for you and your loved ones.
Nutrition
Good nutrition is especially important while you are receiving cancer care. During your treatment, adequate intake of calories, protein, vitamins and minerals will help you to be strong, maintain your weight, and promote the healing process. Before and after your treatment, a healthy diet based on moderation, variety and balance will help to promote a good immune system, give you energy, and enhance your overall health. Our Nutrition and Food Service team is dedicated to providing nourishing meals and nutrition care to promote quality of life throughout the spectrum of your cancer care experience.
Palliative Care
Palliative care is a medical specialty devoted to caring for individuals with progressive illness. It is a common misperception that palliative care is offered only for patients who are ending curative treatment. However, the Supportive and Palliative Care Team at Roswell Park can join the care process at any time. This team of skilled specialists provides comfort to the patient and caregivers, addressing the many issues — emotional, physical, and practical — that are associated with cancer. If end-of-life care is needed, the Palliative Care team helps enhance the experience by facilitating hospice referrals and pastoral care support.
Pastoral Care
The Pastoral Care Department at Roswell Park is an interfaith department supporting the concept of holistic medicine. This concept recognizes the integration of spiritual, emotional, social, psychological and physical care as necessary for the health of the whole person. Working collaboratively with other health care professionals, chaplains provide spiritual care to all persons in the Institute regardless of religious affiliation.
Patient Advisory Council
Created in 2012, Roswell Park's Patient Advisory Council represents a "culture change" in the way the hospital operates and how it receives feedback from our patients. Patients who join the advisory council become involved with every level of care and are invited to take a hard look at the services and procedures in place at Roswell Park, then provide suggestions for how to make improvements.
If you are interested in joining the Patient Advisory Council, please call Roswell Park's Department of the Patient and Family Experience at 716-845-8144.
Patient Advocate Program
Patient Advocates act as a mediator, a connection between you and your health care team. They work with patients and staff to resolve concerns or complaints and to improve effective communication among patients, families, and the Roswell Park care team.
Psychosocial Oncology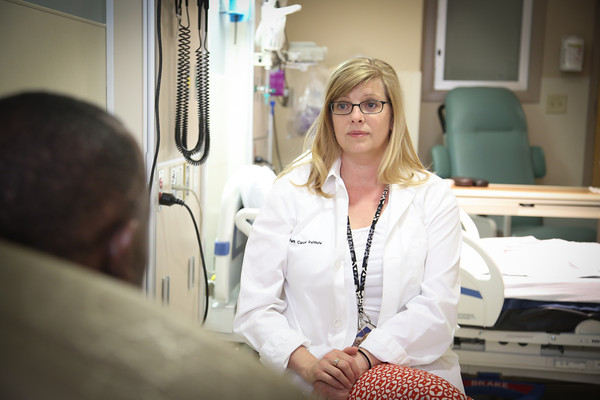 Our team of social workers and clinical psychologists work side by side with your medical team to provide individualized assistance and support to you and your family throughout the course of care. Services include:
Educational programs about cancer
Emotional support, including support groups and psychotherapy
Assistance with sick leave and disability
Arrangement of lodging, transportation or language/interpreter needs
Linkage with financial assistance programs and other community resources
Assistance with advance care planning, palliative care and/or hospice referrals as needed
Purple Shirts
The American Cancer Society and Roswell Park Comprehensive Cancer Center worked together to create a healthcare hospitality program that connects patients and their families with cancer survivors. Dressed in purple shirts, these dedicated volunteers visit clinics throughout the Roswell Park hospital, bringing compassion, understanding, and practical information about Roswell Park resources and supportive services. If you don't see a Purple Shirt in your clinic and would like to speak to someone, please visit The Resource Center for Patients and Families at Roswell Park, or call the Office of Patient and Family Experience at 716-845-8144.
Resource Center for Patients & Families
The Roswell Park Resource Center for Patients & Families located on the first floor of the hospital, inside the Sunflower Café, offers a lending library of DVDs, audio books and CDs, plus laptops and webcams for inpatients. The center helps patients, families, and visitors locate and understand cancer-related print publications and websites. You may also take advantage of the Center's yoga and meditation programs, the "Look Good … Feel Better" program, and a boutique of free wigs, scarves, and hats for patients. The Center is open Monday through Friday, 9 a.m.–4 p.m. Call 716-845-8659 for more information.
Smoking Cessation
Roswell Park Cessation Services (RPCS) provides evidence-based, best practice tobacco cessation services to Roswell Park Comprehensive Cancer Center employees, state quitlines, healthplans, and employer sponsored programs.
Just Breathe
Quitting smoking is hard enough, but struggling with nicotine withdrawal while undergoing cancer treatment is a major challenge. Roswell Park's cessation program, Just Breathe, offers individualized quit plans and provides behavioral counseling, pharmacotherapy and cessation support to all Roswell Park patients and their families. For more information, call 1-800-767-9355 (1-800-ROSWELL).
New York State Smokers' Quitline
Based at Roswell Park and supported by the New York State Department of Health Tobacco Control Program, the NYS Smokers' Quitline has logged well over one million calls since its inception. Call 1-866-697-8487 (1-866-NY-QUITS). Roswell Park was the first health care facility in Western New York to go entirely smoke-free.
Social Media
Follow Roswell Park on Facebook and Twitter for up-to-the-minute updates on events, services and other relevant information.
Additional Resources