Helping transplant patients live longer, healthier lives.
Research is central to the overall mission of Roswell Park Comprehensive Cancer Center. In the field of blood and marrow transplantation (BMT), research enables us to fine-tune the care we provide before, during, and after transplant; to make transplantation possible for more patients who need it; and to extend and improve the lives of BMT patients and survivors both here and around the world.
These are just a few of the projects we're working on:
Raising survival rates for allogeneic transplant patients who have unrelated donors
Making allogeneic transplantation an option for more patients who have unrelated donors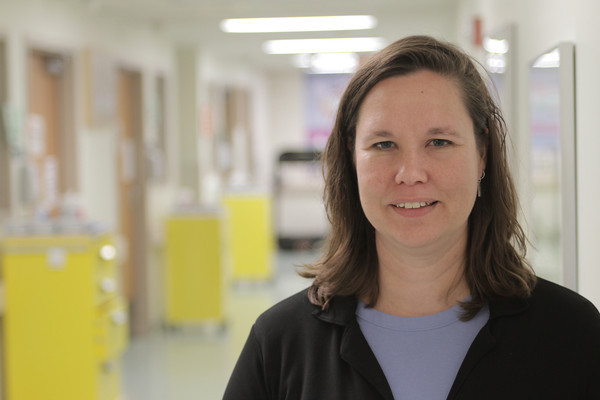 When a BMT patient needs an unrelated donor, patient and donor are matched according to similarities in a set of genes called the human leukocyte antigen (HLA) system. But even with the best HLA match, the patient faces a one-in-three chance of death from transplant-related mortality (TRM) due to graft-versus-host disease (GVHD), infections, toxicity, and other causes.
Theresa Hahn, PhD, Department of Medicine at Roswell Park, and Lara Sucheston-Campbell, PhD, believe the problem may be linked to a mismatch in areas of the genome other than the HLA system. With nearly $5.2 million in funding from the National Institutes of Health, they're leading a team of researchers who are working to identify non-HLA genetic traits that could be affecting BMT outcomes. It's hoped that the information will lead to even better patient/donor matches and higher survival rates.
"Over the past 10 to 15 years, survival rates for BMT patients with unrelated donors have increased," says Dr. Hahn. "But we can do better."
---
Longer survival for multiple myeloma patients after autologous transplant
Multiple myeloma patients who take the drug lenalidomide for long-term maintenance therapy after autologous transplant significantly lower the risk of disease progression. That's the conclusion of a study led by Philip McCarthy, MD, Director of the Roswell Park BMT Center, published in The New England Journal of Medicine in 2012. The study revealed that patients on long-term lenalidomide maintenance therapy had a 20 percent risk of disease progression, compared with a 44 percent risk for those who did not receive lenalidomide.
---
Understanding how myeloma cells left over after treatment can predict the way the disease will behave in the future
In this project, researchers are examining myeloma cells left behind after treatment in patients who were enrolled on a national clinical trial called STaMINA. The patients were randomly separated into three groups, with each group receiving a different treatment. By comparing the presence or absence of myeloma cells remaining after treatment in each of the three groups, and how patients in each group fared after treatment, investigators hope to gain information that could be critical in making treatment choices.
The study is being led by Co-Principal Investigators Theresa Hahn, PhD, Department of Medicine, Roswell Park, and Marcelo Pasquini, MD, MS, Associate Director of the Center for International Blood and Marrow Transplant Research (CIBMTR), Medical College of Wisconsin, with co-investigators Philip McCarthy, MD, Director of Roswell Park's Blood and Marrow Transplant Center, and Paul Wallace, PhD, Director of Flow and Image Cytometry at Roswell Park.