Staffed by members of the Roswell Park medical team, this satellite center provides chemotherapy infusion and specific types of clinical care. Clinic visits are available for patients with endocrine tumors and lung, gastrointestinal, breast, thyroid and gynecologic cancers, as well as consultations and follow-up for plastic & reconstructive surgery.
Free parking is available.
Cancers treated:
Other services:
Plastic & Reconstructive Surgery
Hours
Monday to Friday, 8 a.m. - 5 p.m.
The Amherst Center is closed all major holidays – Memorial Day, July 4th, Labor Day, Thanksgiving, Christmas, and New Year's Day.
Victory Bell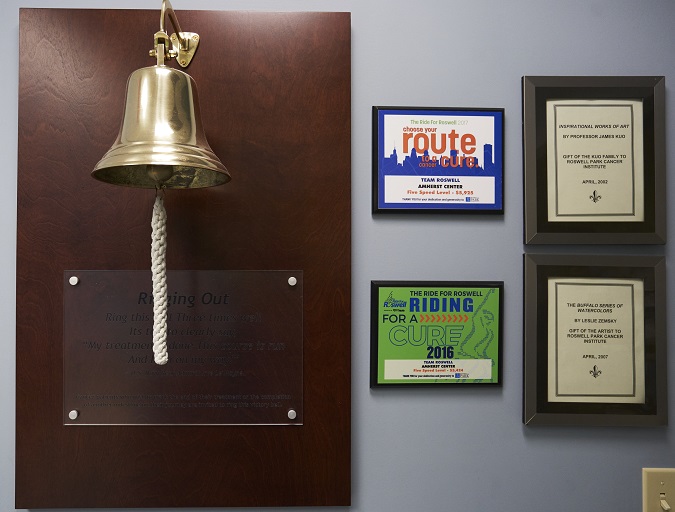 Our Amherst Center has a Victory Bell located at the entrance of the chemo infusion room. Patients are invited to ring the bell to mark the end of treatment or the completion of another milestone. (Just ask a nurse or physician.) If you'd like to share your good news with the wider Roswell Park community, post a photo of yourself ringing the bell on Twitter or Instagram with the hashtag #RoswellStrong.
---
To arrange an appointment at the Amherst satellite
Current Roswell Park patients
Patients currently receiving care at Roswell Park in downtown Buffalo should speak to their Roswell Park physician, who will determine whether you can receive the care you need at the Amherst Center. If your physician indicates that your care can be provided at the Amherst Center, the secretary in your specific clinic can assist you in making an appointment.
New Patients
Call 1-800-ROSWELL (1-800-767-9355) and speak to a referral representative.
This is a satellite location. We have limited hours and not all physicians deliver services from these locations. Please call our scheduling department at 1-800-ROSWELL (1-800-767-9355) and they can assist you in determining availability of specific providers at specific locations.
Staff
A Roswell Park physician is always on site during operating hours. Members of the satellite medical team include:
Physicians
Nurses
Lab Technologist
Pharmacist
Nurse Practitioners
Location
Chemotherapy Infusion & Clinic Satellite
100 College Parkway
Williamsville, New York 14221
Adjacent to the North Campus of Erie Community College, the Roswell Park Chemotherapy Infusion and Clinic satellite in Amherst is easily accessible from the New York State Thruway and other major routes. The satellite is located on the second floor of a medical building that is accessible to visitors with disabilities. View our map for detailed directions.