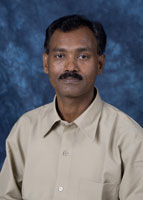 Assistant Professor of Oncology
Department of Cell Stress Biology
Roswell Park Cancer Institute
Biography
Asoke K. Mal, PhD, joined the faculty of Roswell Park Cancer Institute (RPCI) in 2008 as an Assistant Professor of Oncology in the Department of Cell Stress Biology.
Dr. Mal came to RPCI from the Lerner Research Institute, Cleveland Clinic Foundation, OH, where he was on the faculty of the Department of Molecular Genetics. He earned his doctoral degree in 1992 in Biochemistry from the University of Calcutta, India.
Dr. Mal is a member of the American Association of Cancer Research and the American Association for the Advancement of Science. He has authored or co-authored several journal publications.
Background
Education and Training:
PhD - Biochemistry University of Calcutta, India
The role of histone modifications in epigenetic reprogramming of skeletal muscle differentiation.
Epigenetic mechanism regulating human rhabdomyosarcoma development.
Identification of MyoD modulators by screening of a small molecules library.
The research program in Dr. Mal's laboratory is focused on broad but highly integrated areas of study. The epigenetic gene regulation program involves identifying the epigenetic changes and deciphering the mechanism as a potential target strategy for therapy. This program is aimed to identify the epigenetic mechanism regulating normal and perturb differentiation. Particularly, the research focuses on epigenetic modulation of gene expression regulating skeletal muscle differentiation during development and regeneration, as well as in muscle tumor rhabdomyosarcoma (RMS). The drug discovery program involves searching small molecule modulators that would activate the skeletal muscle differentiation program in multipotent muscle stem cells (satellite cells) and in RMS tumor cells. Both programs are aimed at therapeutic applications for skeletal muscle associated tumors and degenerative diseases.
Collaborators:
Marc S. Penn, M.D., Ph.D., Lerner Research Institute, Cleveland Clinic
Charles Keller, M.D., Children's Cancer Research Institute, University of Texas Health Science Center
Panicker SP, Raychaudhuri B, Sharma P, Tipps R, Mazumdar T, Mal AK, Palomo JM, Vogelbaum MA, Haque SJ. p300- and Myc-mediated regulation of glioblastoma multiforme cell differentiation. Oncotarget 2010; 1(4):289-303
Lee MH, Jothi M, Gudkov AV, Mal AK. Histone Methyltransferase KMT1A Restrains Entry of Alveolar Rhabdomyosarcoma Cells into a Myogenic Differentiated State. Cancer research 2011; 71(11):3921-3931
Jothi M, Nishijo K, Keller C, Mal AK. AKT and PAX3-FKHR cooperation enforces myogenic differentiation blockade in alveolar rhabdomyosarcoma cell.Cell cycle (Georgetown, Tex.) 2012; 11(5):895-908