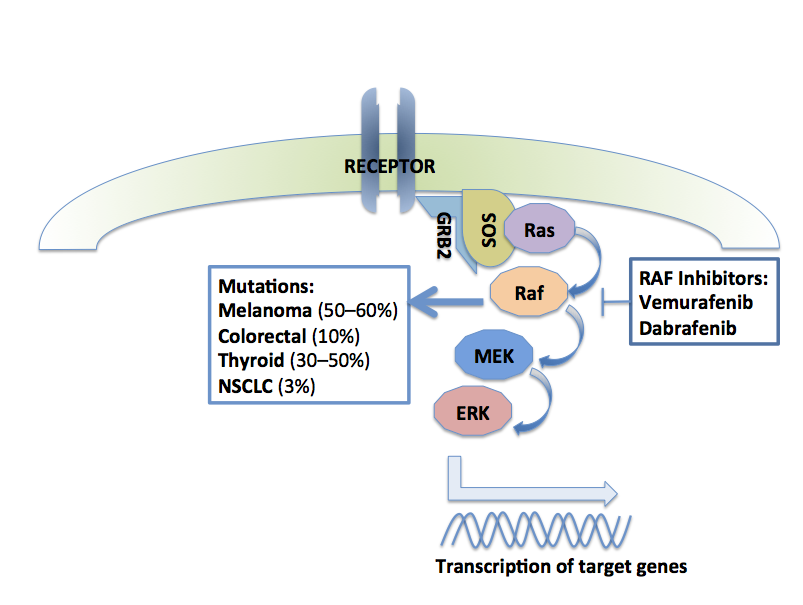 Targeting BRAF Mutation Positive Cancers: Melanoma, Lung and Colorectal
Mitogen-activated protein kinase (MAPK) is a key signaling pathway in a number of cancers. Mutations in various components of the MAPK pathway — specifically BRAF — have been described in melanoma (50–60%), colorectal (10%), thyroid (30–50%), and Non-small cell lung cancer (NSCLC) (3%), as well as hairy cell leukemia (100%). BRAF encodes a serine-threonine kinase causing downstream activation of MAPK signaling through phosphorylation of MEK 1 and 2 and subsequent phosphorylation of ERK 1 and 2.
Mutations in BRAF were initially described in 2002, with V600E being the most common mutation. Activating mutations in BRAF lead to constitutive activation of BRAF and hence RAF-MEK-ERK signaling cascade, promoting cell proliferation and survival while inhibiting apoptosis, and thus driving cancer growth.
Identification of BRAF mutations in various tumor types, as well as elucidation of their role as driver mutations, has led to development of various ATP-competitive RAF inhibitors. Vemurafenib and Dabrafenib are the two most extensively evaluated agents in this class.
In addition to BRAF, agents targeted to MEK have also been evaluated for inhibition of MAPK pathway and have shown activity, especially in melanoma. Based on scientific rationale and efficacy demonstrated in clinical studies, some of these agents are approved for melanoma. A number of studies are ongoing to also evaluate their role in other cancers — especially lung, thyroid and colorectal cancer, each of which are discussed in more detail below.
BRAF and MEK Inhibitors in Melanoma
High constitutive activity of MAPK pathway has been shown in a majority of melanomas. To date, BRAF and MEK have been shown to be clinically relevant components of this pathway with proven efficacy of agents targeted to BRAF and MEK.
BRAF Inhibitors in Lung Cancer
BRAF mutations have been reported in 3% of non-small cell lung cancers (NSCLC), only in adenocarcinoma sub-type of NSCLC. Although uncommon, BRAF mutations represent a valid potential target as multiple RAF kinase inhibitors are available. BRAF V600E mutation is reported in 2% of NSCLC.
BRAF and MEK Inhibitors in Colorectal Cancer
BRAF mutation has been reported in approximately 10–15% of colorectal cancers. Data also supports presence of BRAF mutations as a poor prognostic factor, as well as a potential biomarker of lack of response to EGFR directed therapy in KRAS wild type colorectal cancer. Like melanoma, BRAF V600E is the most common mutation seen in the RAF family of serine threonine kinases in colorectal cancer, but, unlike melanoma, the response to BRAF inhibitors in this cancer has been limited.