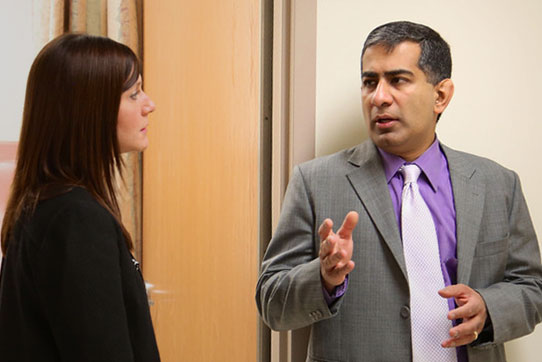 Q&A with Nikhil Khushalani, MD: Treating Advanced Cancers with the Immunotherapy, High-dose Interleukin-2 (IL-2)
Read an interview with Nikhil Khushalani, MD, formerly of Roswell Park Cancer Institute (RPCI), about the use of high-dose interleukin-2 (IL-2) for the treatment of melanoma and kidney cancers and the clinical trials currently underway to investigate the response of IL-2 in patients.
Q: What types of cancers have shown the greatest response thus far to immunotherapy?
A: Immunotherapy drugs have long been studied due to their potential as anti-cancer agents. The two diseases where immunotherapy has made a distinct impact on patient outcomes, in the advanced setting, are melanoma and kidney cancer, two seemingly very different neoplasms. The treatment landscape in both has undergone significant changes in the past several years with the approval of new drugs by the United States Food and Drug Administration (FDA). Much of this improvement has come with greater understanding of the molecular biology of these cancers. Despite this, most patients with advanced melanoma or kidney cancer will eventually experience progression of their disease, stressing the ongoing need for investigation in this field.
Q: What outcomes have been achieved with the use of high-dose IL-2 for melanoma and kidney cancers?
A: Only immunotherapy has the potential to induce long-lasting responses, although this occurs in a minority of patients. High-dose IL-2 was approved in the late 1990s for both of these cancers. IL-2 works by enhancing immune function causing activation and proliferation of T-cells. It can result in complete response in 6-7 percent and partial responses in 8-10 percent of patients. Some of these responses have lasted more than 20 years and thus patients may be cured from their cancer, something which is very rare in the world of other metastatic solid tumor cancers such as lung, stomach, pancreas, etc. This is what is unique about melanoma, kidney cancer, and IL-2 in the world of oncology.
Q: How is IL-2 administered?
A: IL-2 therapy is administered in the inpatient setting on a monitored unit. It is given every eight hours as an intravenous infusion over 15 minutes for a maximum of 14 doses over five days (cycle 1). After a break of one week, the same process is repeated (cycle 2), and then the patient gets a "drug-holiday" for six weeks. Each dose during a cycle is administered upon careful consideration of the patients' clinical status and laboratory parameters, and most patients receive 8 to 12 doses per cycle. If scans show that the patient is responding, we repeat the treatment protocol for a maximum of six cycles.
Q: How is patient eligibility determined for IL-2?
A: Screening for the right patient is very important as this therapy is replete with side effects. We need to ensure adequate functional status and cardio-pulmonary reserve. Pre-therapy testing includes a cardiac nuclear stress test along with pulmonary function tests. Plus we confirm the absence of brain metastases with an MRI or CT scan. Some patients with brain metastases may still be eligible for IL-2 provided the metastases are stable after definitive therapy such as surgery or stereotactic radiation (Gamma Knife).
Q: What are some of the side effects of IL-2?
A: Every patient will experience toxic effects from IL-2, some of which can be severe. This includes hypotension, oliguria, high fever, chills and rigors, elevated bilirubin and creatinine, etc. In rare cases, pulmonary edema, cardiac arrhythmias and myocarditis can also occur; hence the need for the testing noted above. The nursing staff on our IL-2 floor at Roswell Park is well-versed with recognizing these effects for prompt intervention. Most of these adverse effects are self-limited and usually reverse promptly upon discontinuation of the drug. Responses are detected early, which is the beauty of this therapy, as we can alter strategy in a very timely manner, should there be lack of response.
Q: What are the next steps with IL-2?
A: In order to understand which patients benefit from IL-2 so that we can selectively offer it to this cohort, we are participating in the high-dose IL-2 SELECT trial in melanoma (PI, Dr. Khushalani) that aims to examine blood and tumor tissue markers for developing a predictive model of response. We previously participated in a similar effort for kidney cancer. In addition, Roswell Park (PI, Roberto Pili, MD, Chief, Genitourinary Section and Leader, Genitourinary Program) is leading an exciting phase I/II multi-center trial of high-dose IL-2 plus entinostat (HDAC inhibitor) for patients with advanced renal cell carcinoma. My hope and belief is that clinical and laboratory investigations will eventually allow us to tailor treatment strategies to each individual patient.
Q: What's unique about the IL-2 program at Roswell Park?
A: At RPCI, we have a wealth of experience in treating patients with high-dose IL-2. Together with Dr. Pili and Saby George, MD, FACP, we run one of the busiest IL-2 programs in New York State.
It is very important to think of IL-2 as front-line therapy given its curative potential. In our practice, we will use IL-2 first for eligible patients. Its up-front use does not preclude the subsequent use of other agents for either disease. In fact, it may be preferable to use earlier secondary to safety issues that are being recognized when other drugs are used prior to IL-2.
Phase I / II Study of High Dose Interleukin 2, Aldesleukin, in Combination with the Histone Deacetylase Inhibitor Entinostat in Patients with Metastatic Renal Cell Carcinomas, sponsored by Roswell Park Cancer Institute
Each year more than 51,000 new cases of kidney cancer and approximately 13,000 cancer specific deaths in the United States. One third of these patients have metastatic disease at the time of diagnosis. Randomized studies in metastatic RCC patients have shown there is a survival benefit of nephrectomy and cytokine therapy over cytokine therapy alone. Many patients undergo nephrectomy as a component of their standard care. The prognosis for recurrent or metastatic renal cell carcinoma is poor, as median survival is 10-13 months and 5-year survival is less than 5%. These figures underscore the need for effective systemic therapy in this disease.
High-dose aldesleukin has been approved by the FDA for the treatment of patients with metastatic renal cell cancer.
HDAC inhibitors induce cell-cycle arrest, differentiation or apoptosis in vitro, and have potent anti-tumor activities in vivo. We previously showed that the HDAC inhibitor entinostat has significant antitumor activity in a renal cell carcinoma model. HDAC inhibitors have also been shown to have immunodulatory properties including activation of major histocompatibility complex (MHC) class I and II proteins, and co-stimulatory molecules CD40, CD80 and CD86. The results from the clinical trials with HDAC inhibitors in cutaneous T cell lymphoma and large cell lymphoma patients suggest that the antitumor activity of these agents may be in part due to the modulation of the immune response.
In our lab we recently tested the effectiveness of combination therapy of aldesleukin with the HDAC inhibitor entinostat in a murine renal cell carcinoma model. The results suggest that the combination of aldesleukin and entinostat has a synergistic antitumor effect in vivo. The antitumor effect was associated with decreased number of regulatory T cells and increased antitumor cytotoxicity by splenocytes. A dose dependent effect for aldesleukin but not for entinostat was observed. These data provide the rationale for clinical testing of the combination of high dose aldesleukin and HDAC inhibitors in the treatment of renal cell carcinoma patients. The immunomodulatory activity of entinostat and its direct antitumor effect may increase the response rate to high dose aldesleukin, further delay disease progression and increase progression-free survival in patients with metastatic RCC.
We are currently enrolling patients to the phase II portion of this study. Eligible patients must have pathological diagnosis of renal cell carcinoma that is metastatic or surgically unresectable. The histology must be clear cell carcinoma or predominant clear cell carcinoma.
One cycle of treatment (84 days) will consist of 2 courses of high dose aldesleukin 600,000 units/kg administered IV every 8 hrs. on days 1-5 and days 15-19 (± 7 days) (maximum 28 doses) and entinostat 5mg will be given orally (1-2 hrs prior to aldesleukin infusion) given every 2 weeks starting on day -14. Tumor response assessment will be performed on week 11 (+/- 7 days). In the event of clinical benefit (stable disease or tumor shrinkage) patients will receive a second cycle of therapy. We have completed the Phase I portion of the study and preliminary results have been presented at the recent ASCO GU Meeting February2013. To date we have observed new overt overlapping toxicity between entinostat and interleukin 2. Encouragingly, we have observed at 50% objective response rate out of eight (8) patients treated. We believe this is an effective treatment with metastatic clear cell renal carcinoma.
Many nearby local hotels, and hospitality houses offer special rates to Roswell Park patients, their families and visitors. To obtain further information please contact us.
To learn more, please contact:
Dr. Roberto Pili
Genitourinary Service, Department of Medicine
Roswell Park Cancer Institute
Elm & Carlton Streets
Buffalo, NY 14263
716-845-3851
Roberto.Pili@roswellpark.org
Patients are needed for this research study, and any referrals for the study would be greatly appreciated. Thank you in advance.