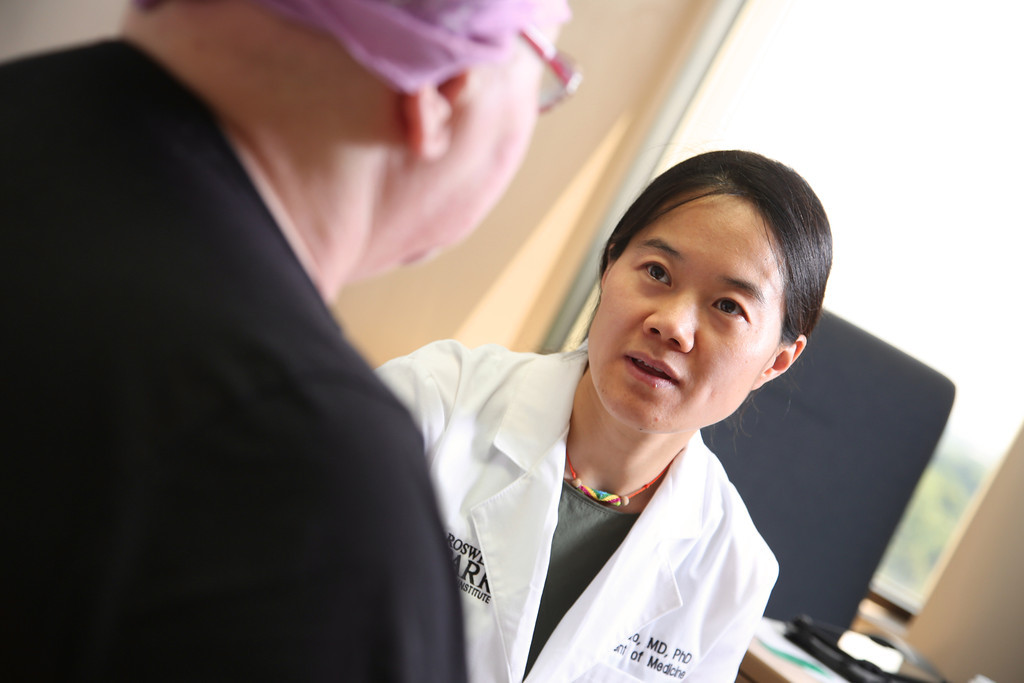 Phase II Trial Evaluating Cabozantinib in Thyroid Cancer
Well-differentiated thyroid cancer (DTC) consists of both papillary (PTC) and follicular (FTC) histology types. They comprise approximately 40 – 80 percent and 10 – 40 percent of all thyroid malignancies, respectively.
In general, DTC has a favorable long-term survival. Most of the early stage diseases can be cured through surgery with or without radioactive iodine (RAI) therapy (131I) and (TSH) suppression. However, a small proportion of patients will develop distant metastases either at diagnosis or during follow-up. These patients have a much worse prognosis with a reported five-year survival of less than 50 percent. The main anti-cancer treatments for these patients are thyroid stimulating hormone (TSH) suppression, RAI ablation for lesions that are radioiodine avid, and resection or external beam radiation of selected metastases.
Doxorubicin is the only FDA-approved systemic therapy in this setting; however it is associated with significant toxicity and low efficacy, thus rarely used. Tyrosine kinase inhibitors targeting angiogenesis pathways have been found to be effective in DTC in recent years. Several multikinase inhibitors (MKIs) targeting VEGFRs and RET such as sorafenib, sunitinib, vandetanib, pazopanib and axitinib have showed anti-tumor activity in DTC in phase II/III clinical trials in patients with RAI-refractory DTC with majority of subjects being MKI naïve. To date, there has been no trial conducted to examine the role of MKI specifically in second line setting, and the treatment options in this population remain undefined.
An NCI-sponsored phase II study evaluating cabozantinib, a tyrosine kinase inhibitor targeting c-MET and VEGFR, as a second line therapy in well-differentiated thyroid cancer (papillary thyroid cancer, follicular thyroid cancer or hurthle cell, follicular variant of papillary thyroid cancers or any of the above mixed histology), as well as poorly differentiated thyroid cancer, is open for accrual at Roswell Park Cancer Institute.
While VEGF-targeted tyrosine kinase inhibitors are usually offered as first line treatment, there is little evidence to guide the selection of second line treatments after disease acquires resistance to initial VEGF-targeted agents. Cabozantinib is an FDA-approved oral agent for medullary thyroid cancer, and showed marked activity in bony metastasis in solid tumors, such as castration resistant prostate cancer in clinical studies. In addition to angiogenesis, cabozantinib also targets c-MET, which is implicated in developing resistance to VEGF-directed therapies. This clinical trial will include patients who have progressed on exactly one line of prior VEGFR-targeted therapy.
For more information, visit: http://clinicaltrials.gov/ct2/show/NCT01811212?term=cabozantinib&rank=17.
Contact Dr. Yujie Zhao at Yujie.Zhao@RoswellPark.org.