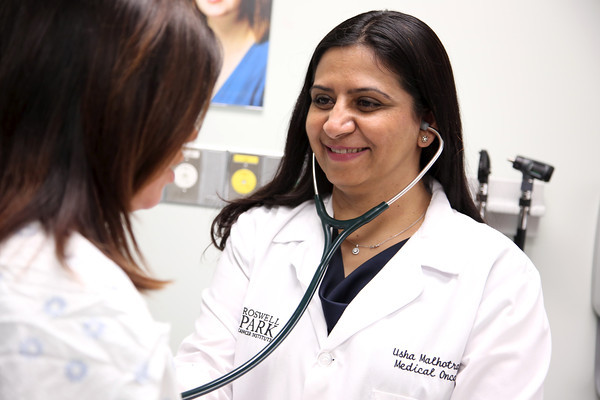 Anti-PD1 Therapy in Melanoma and Lung Cancer
by Usha Malhotra, MD, Formerly of Roswell Park 
Assistant Professor of Oncology
In the past few decades there has been breakthrough research in defining the role of immune system modulation for cancer therapy. One such target has been Programmed cell Death protein (PD1) and its ligands (PDL1 and PDL2). PD1, a cell surface receptor expressed on T and B cells, interacts with ligands PDL1 and PDL2 leading to down-regulation of immune response. PDL1 and PDL 2 are expressed on various cells including cancer cells and antigen presenting cells. Interaction of PD 1 with its ligands has been shown to help cancer cells evade immune system.
Various agents directed to PD1 or PDL1 have been evaluated in various cancers. Two agents recently approved by the FDA include Pembrolizumab and Nivolumab.
Melanoma
Pembrolizumab was the first PD1 directed agent approved by the FDA in September 2014 for unresectable or metastatic melanoma after disease progression in Ipilimumab and also BRAF inhibitor for BRAF V600E mutation positive patients. The approval was based on a multicenter, open-label, dose comparative cohort of KEYNOTE-001. Patients with advanced melanoma who had progressed on Ipilimumab as well as Anti BRAF therapy when indicated were randomly assigned (1:1) to receive 2mg/Kg or 10mg/Kg of pembrolizumab every three weeks. A total of 173 (89 received 2mg/Kg and 84 received 10 mg/Kg) patients were enrolled and followed for a median duration of 8 months. In the 2mg/Kg dose group overall response rate (ORR) was 24% and with duration of response of greater than 6 months in 8 patients. Results were similar in the 10 Mg/Kg dose group. Major toxicities included fatigue, rash, pruritus, cough and nausea. The FDA approved dose for metastatic melanoma is 2mg/Kg every three weeks as an intravenous infusion.
Nivolumab was approved under FDAs accelerated approval program for metastatic /unresectable melanoma in December 2014 for patients who had progressed on ipilimumab and BRAF directed therapy if BRAF mutation positive. The efficacy of Nivolumab was demonstrated in an open label phase I study of metastatic /unresectable melanoma refractory to standard approved agents. The first 120 patients who received 3 mg/kg of nivolumab intravenously every 2 weeks were assessed for clinical efficacy. An ORR of 32% was reported by an independent blinded review. Duration of response ranged from 2.6 to greater than 10 months with an ongoing sustained response of greater than 6 months in 13 patients. Common adverse effects included rash, pruritus, respiratory symptoms and fluid retention. The approved dose is 3 mg/kg intravenously every 2 weeks.
Squamous Non-small cell lung cancer (NSCLC)
Nivolumab was approved for metastatic squamous NSCLC after progression on platinum based therapy in March 2015. An open label randomized study demonstrated an improvement in overall survival with Nivolumab compared to docetaxel in patients with metastatic Squamous NSCLC who had received and progressed on prior platinum based therapies. 135 patients randomized to Nivolumab arm received a dose of 3 mg/kg intravenously every 2 weeks. Patients in Docetaxel arm received 75mg/m2 of Docetaxel every 3 weeks. Survival was significantly better in the Nivolumab arm (Median OS 9.2 months (95% CI: 7.3, 13.3) versus 6 months (95% CI: 5.1, 7.3) [Hazard Ratio 0.59, 95% CI: 0.44, 0.79, p=0.00025]. Another single arm study in patients with metastatic squamous NSCLC evaluated Nivolumab in third line setting with progression on at least two prior regimens. A total of 117 patients received nivolumab at a dose of 3 mg/kg intravenously every 2 weeks. An ORR of 15% was reported with ongoing response of greater than 6 months in 59% of patients. Adverse effects reported included fatigue, respiratory symptoms, loss of appetite etc.
The FDA approved dose of nivolumab is 3 mg/kg intravenously every 2 weeks.
At RPCI, multiple trials are ongoing to evaluate PD1 directed therapies as well as other potential targets.