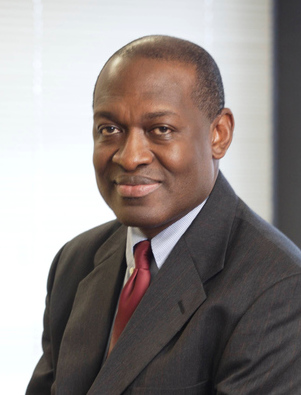 Alex Adjei, MD, PhD, FACP
Professor and Chair, Department of Medicine
Senior Vice President of Clinical Research
The Katherine Anne Gioia Chair in Cancer Medicine
Roswell Park Cancer Institute
Academic Scholar in Medicine
Jacobs School of Medicine and Biomedical Sciences, State University of New York at Buffalo
Special Interests:
Drug Development (Phase I clinical trials; Phase II clinical trials)
Assessing toxicity, pharmacology and initial activity of novel agents for solid tumors
Development of biomarkers of drug effects
Mechanism of action and resistance of novel agents that inhibit cell signaling
Pharmacogenetics
Biography
Alex Adjei, MD, PhD, joined the faculty of Roswell Park Cancer Institute (RPCI) in 2006 as Senior Vice President of Clinical Research and Katherine Anne Gioia Chair of Cancer Medicine. Dr. Adjei is responsible for expanding the Department's phase I and Thoracic Oncology programs and strives to enhance existing programs and establish new clinical and research initiatives.
Dr. Adjei is a distinguished national leader in translational research, drug development and thoracic oncology. He joined RPCI from the Mayo College of Medicine, Rochester, MN, where he served as Professor of Oncology and led highly successful thoracic oncology and Phase I clinical research programs.
Dr. Adjei earned his medical degree from the University of Ghana Medical School in Legon. He obtained a doctorate in pharmacology at the University of Alberta in Edmonton, Canada. Dr. Adjei completed residency training at Howard University, Washington, DC, and clinical and research fellowships in oncology at Johns Hopkins School of Medicine, Baltimore, MD. He is a Diplomate of the American Board of Internal Medicine.
Dr. Adjei's research is focused on assessing the toxicity, pharmacology and initial activity of novel agents for the therapy of solid tumors and developing biomarkers of drug effects. His laboratory studies focus on elucidating mechanisms of action and resistance of novel agents that inhibit cell signaling. He also conducts phase II clinical trials of novel agents in lung cancer.
In recognition of his long track record in oncology drug development, Dr. Adjei was recognized in 2012 as the first recipient of the American Society of Clinical Oncology (ASCO) Drug Development Research Professorship. This award has allowed him to focus a significant portion of his time in mentoring junior faculty, both from the U.S. and internationally, in the areas of drug development, clinical trial design and regulatory science.
Dr. Adjei is an active member of numerous professional organizations. As a member of the American Association for Cancer Research (AACR), he has served on numerous committees. He was Chair of the Minorities in Cancer Research Council and co-Chair of the AACR's 2005, 2007 and 2012 Annual Meetings. He has served on ASCO's annual meeting program committee twice and has been a member of the Translational Research Task Force, Cancer Research Committee and Grants Selection Committee. He is a member of the Board of Directors of the International Association for the Study of Lung Cancer (IASLC).
Dr. Adjei also has served on many committees for the National Cancer Institute (NCI). He has served as Group Vice Chair of the NCI's North Central Cancer Treatment Group (NCCTG), from 2005 to 2007, and as Lung Committee Chair of that group from 2005 to 2012). He is currently a member of the NCI's Thoracic Malignancies Steering Committee and Vice Chair of its Lung Intergroup Correlative Science Committee. He was a member of the Lung Cancer Progress Review Group in 2000 and the Lung Cancer Concept Evaluation Panel from 1999-2002. He has served on several National Institutes of Health (NIH) committees as well, having chaired a Clinical and Translational Science Awards (CTSA) Study Section from 2007-2012, and is a member of the NCI Clinical Oncology (CONC) and Initial Review Group (IRG) Subcommittee A – Cancer Centers study sections. He continues in his senior leadership role in lung cancer nationally as a legacy Respiratory Program Chair of the newly constituted cooperative group Alliance for Clinical Trials in Oncology (ACTION).
Dr. Adjei has authored or co-authored 200 peer-reviewed manuscripts and over 200 abstracts, two books and 15 book chapters. He has several editorial positions on academic journals. He is Associate Editor of the American Journal of Clinical Oncology and Editor-in-Chief of Journal of Thoracic Oncology.
Background
Education and Training:
MD - University of Ghana Medical School, Legon, Ghana
PhD - University of Alberta, Edmonton, Alberta, Canada
Residency:
Howard University, Washington, DC
Fellowship:
Johns Hopkins School of Medicine, Baltimore, MD
Board Certification:
Diplomate, Internal Medicine, American Board of Internal Medicine
Medical Oncology, American Board of Internal Medicine
Weickhardt A, Doebele R, Oton A, Lettieri J, Maxson D, Reynolds M, Brown A, Jackson MK, Dy G, Adjei A, Fetterly G, Lu X, Franklin W, Varella-Garcia M, Hirsch FR, Wynes MW, Youssoufian H, Adjei A, Camidge DR. A phase I/II study of erlotinib in combination with the anti-insulin-like growth factor-1 receptor monoclonal antibody IMC-A12 (cixutumumab) in patients with advanced non-small cell lung cancer.Journal of thoracic oncology 2012; 72:419-426
Reungwetwattana T, Molina JR, Mandrekar SJ, Allen-Ziegler K, Rowland KM, Reuter NF, Luyun RF, Dy GK, Marks RS, Schild SE, Jett JR, Adjei AA. Brief report: a phase II "window-of-opportunity" frontline study of the MTOR inhibitor, temsirolimus given as a single agent in patients with advanced NSCLC, an NCCTG study. Journal of thoracic oncology 2012; 75:919-922
Shao H, Gao C, Tang H, Zhang H, Roberts LR, Hylander BL, Repasky EA, Ma WW, Qiu J, Adjei AA, Dy GK, Yu C. Dual targeting of mTORC1/C2 complexes enhances histone deacetylase inhibitor-mediated anti-tumor efficacy in primary HCC cancer in vitro and in vivo. Journal of hepatology 2012; 561:176-183
Liu P, Morrison C, Wang L, Xiong D, Vedell P, Cui P, Hua X, Ding F, Lu Y, James M, Ebben JD, Xu H, Adjei AA, Head K, Andrae JW, Tschannen MR, Jacob H, Pan J, Zhang Q, Van den bergh F, Xiao H, Lo KC, Patel J, Richmond T, Watt M, Albert T, Selzer R, Anderson M, Wang J, Wang Y, Starnes S, Yang P, You M.Identification of somatic mutations in non-small cell lung carcinomas using whole-exome sequencing.Carcinogenesis 2012; 337:1270-1276
Peters S, Adjei AA. MET: a promising anticancer therapeutic target. Nature reviews. Clinical oncology2012; 96:314-326
Ma WW, Messersmith WA, Dy GK, Weekes CD, Whitworth A, Ren C, Maniar M, Wilhelm F, Eckhardt SG,Adjei AA, Jimeno A. Phase I study of Rigosertib, an inhibitor of the phosphatidylinositol 3-kinase and Polo-like kinase 1 pathways, combined with gemcitabine in patients with solid tumors and pancreatic cancer. Clinical cancer research 2012; 187:2048-2055
Ramakrishnan V, Timm M, Haug JL, Kimlinger TK, Halling T, Wellik LE, Witzig TE, Vincent Rajkumar S,Adjei AA, Kumar S. Sorafenib, a multikinase inhibitor, is effective in vitro against non-Hodgkin lymphoma and synergizes with the mTOR inhibitor rapamycin. American journal of hematology 2012;873:277-283
An M-W, Mandrekar SJ, Branda ME, Hillman SL, Adjei AA, Pitot HC, Goldberg RM, Sargent DJ.Comparison of continuous versus categorical tumor measurement-based metrics to predict overall survival in cancer treatment trials. Clinical cancer research 2011; 1720:6592-6599
Adjei AA, Schwartz B, Garmey E. Early Clinical Development of ARQ 197, a Selective, Non-ATP-Competitive Inhibitor Targeting MET Tyrosine Kinase for the Treatment of Advanced Cancers.Oncologist 2011; 166:788-799
Shao H, Tang H, Salavaggione OE, Yu C, Hylander B, Tan W, Repasky E, Adjei AA, Dy GK. Improved Response to nab-Paclitaxel Compared with Cremophor-Solubilized Paclitaxel is Independent of Secreted Protein Acidic and Rich in Cysteine Expression in Non-Small Cell Lung Cancer. Journal of thoracic oncology 2011; 66:998-1005
Sharma N, Adjei AA. In the clinic: ongoing clinical trials evaluating c-MET-inhibiting drugs. Therapeutic advances in medical oncology 2011; 31 Suppl.:S37-S50
Adjei AA, Blumenschein GR Jr, Mandrekar S, Hillman S, Gatzemeier U, Heigener D. Long-term safety and tolerability of sorafenib in patients with advanced non-small-cell lung cancer: a case-based review.Clinical lung cancer 2011; 124:212-217
Lorusso PM, Jin JY, Cheeti S, Chang I, Colburn D, Low JA, Leichman L, Berlin J, Adjei A, Dy G, Jimeno A, Graham RA. Pharmacokinetic dose-scheduling study of hedgehog pathway inhibitor vismodegib (GDC-0449) in patients with locally advanced or metastatic solid tumors. Clinical cancer research 2011;1717:5774-5782
Kaufmann SH, Karp JE, Litzow MR, Mesa RA, Hogan W, Steensma DP, Flatten KS, Loegering DA, Schneider PA, Peterson KL, Maurer MJ, Smith BD, Greer J, Chen Y, Reid JM, Ivy SP, Ames MM, Adjei AA, Erlichman C, Karnitz LM. Phase I and pharmacological study of cytarabine and tanespimycin in relapsed and refractory acute leukemia. Haematologica 2011; 9611:1619-1626
Foster NR, Adjei AA, Schild SE, Molina JR, Jett JR, Kugler JW, Krook JE, Shi Q, Qi Y, Mandrekar SJ. Tumor response and progression-free survival as potential surrogate endpoints for overall survival in extensive stage small-cell lung cancer: findings on the basis of North Central Cancer Treatment Group trials. Cancer 2011; 1176:1262-1271
Dy GK , Schild SE , Mandrekar S , Nair S , Wender DB , Steen PD , Molina JR , Rowland Jr KM , Hillman SL ,Adjei AA. A front-line window of opportunity phase 2 study of sorafenib in patients with advanced nonsmall cell lung cancer: north Central Cancer Treatment Group Study N0326. Cancer 2010;11624:5686-5693
Adjei AA, Jatoi A , Soori GS , Stella PJ , Rowland KM , Dakhil SR , Fitch TR , Flynn PJ , Dornfeld KJ , Henning GT , Foster N , Schild SE , Adjei AA. A phase II study of cetuximab and radiation in elderly and/or poor performance status patients with locally advanced non-small-cell lung cancer (N0422). Annals of oncology 2010; 2110:2040-2044
Bhaskarla A, Tang PC, Mashtare T, Nwogu CE, Demmy TL, Adjei AA, Reid ME, Yendamuri S. Analysis of second primary lung cancers in the SEER database. Journal of surgical research 2010; 1621:1-6
Adjei AA, Salavaggione OE, Mandrekar SJ, Dy GK, Ziegler KLA, Endo C, Molina JR, Schild SE, Adjei AA.Correlation between polymorphisms of the reduced folate carrier gene (SLC19A1) and survival after pemetrexed-based therapy in non-small cell lung cancer: a North Central Cancer Treatment Group-based exploratory study. Journal of thoracic oncology 2010; 59:1346-1353
Bryce AH, Perez EA, Soori G, Wender DB, Rowland Jr K, Kugler JW, Adjei AA, Hillman SL, Mattar B, Jett JR.Phase II trial of oral topotecan and intravenous carboplatin with G-CSF support in previously untreated patients with extensive stage small cell lung cancer: A North Central Cancer Treatment Group Study.American journal of clinical oncology 2010; 334:353-357
Adjei AA, Schild SE, Rowland Jr KM, Stella PJ, Ziegler KLA, Gandara DR, Adjei AA, Molina JR, Dy GK, Mandrekar SJ, Zinner RG. Phase II trial of pemetrexed plus bevacizumab for second-line therapy of patients with advanced non-small-cell lung cancer: NCCTG and SWOG study N0426. Journal of clinical oncology 2010; 284:614-619
Ramakrishnan V, Timm M, Haug JL, Kimlinger TK, Wellik LE, Witzig TE, Rajkumar SV, Adjei AA, Kumar S.Sorafenib, a dual Raf kinase/vascular endothelial growth factor receptor inhibitor has significant anti-myeloma activity and synergizes with common anti-myeloma drugs. Oncogene 2010; 298:1190-1202
Lai JP , Sanderson S , Adjei AA , Murphy LM , Aderca I , Shire AM , Hu CL , Moser CD , Yu CR , Sandhu DS , Roberts LR. Sulfatase 2 protects hepatocellular carcinoma cells against apoptosis induced by the PI3K inhibitor LY294002 and ERK and JNK kinase inhibitors. Liver international 2010; 3010:1522-1528
Lai J-P , Fernandez-Zapico ME , Adjei AA , Sanderson SO , Li J , Shire AM , Garrity-Park MM , Isomoto H , Aderca I , Han T , Nakamura I , Hu C , Elsawa SF , Yu C , Moser CD , Oseini AM , Roberts LR. The oncogenic effect of sulfatase 2 in human hepatocellular carcinoma is mediated in part by glypican 3-dependent Wnt activation. Hepatology (Baltimore, Md.) 2010; 525:1680-1689
Karp JE, Flatten K, Feldman EJ, Greer JM, Loegering DA, Ricklis RM, Morris LE, Ritchie E, Smith BD, Ironside V, Talbott T, Roboz G, Le SB, Meng XW, Schneider PA, Dai NT, Adjei AA, Gore SD, Levis MJ, Wright JJ, Garrett-Mayer E, Kaufmann SH. Active oral regimen for elderly adults with newly diagnosed acute myelogenous leukemia: a preclinical and phase 1 trial of the farnesyltransferase inhibitor tipifarnib (R115777, Zarnestra) combined with etoposide. Blood 2009; 11320:4841-4852
Wakelee H, Choy H, Goss G, Adjei A, Saijo N, Baas P, Schiller JH, Vokes EE, Edelman MJ, Putnam JB, Kernstine KH, Loo BW, Gandara DR. Cooperative group research efforts in thoracic malignancies 2009: a review from the 10th Annual International Lung Cancer Congress. Clinical lung cancer 2009; 106:395-404
Sangha R, Vokes EE, Schiller JH, Saijo N, Goss G, Gaspar LE, Choy H, Baas P, Adjei AA, Lara Jr PN, Gandara DR. Cooperative group research endeavors in small-cell lung cancer: current and future directions. Clinical lung cancer 2009; 105:322-330
McShane LM, Hunsberger S, Adjei AA. Effective incorporation of biomarkers into phase II trials. Clinical cancer research 2009; 156:1898-1905
Dy GK, Adjei AA. Emerging therapeutic targets in non-small cell lung cancer. Proceedings of the American Thoracic Society 2009; 62:218-223
Yang P, Perez E, Adjei AA, Sloan JA, Cunningham JM, Wampfler JA, Sun Z, Ziegler KLA, Hillman SH, Mandrekar SJ, Jett JR. Evaluation of glutathione metabolic genes on outcomes in advanced non-small cell lung cancer patients after initial treatment with platinum-based chemotherapy: an NCCTG-97-24-51 based study. Journal of thoracic oncology 2009; 44:479-485
Ma WW, Adjei AA. Novel agents on the horizon for cancer therapy. CA : a cancer journal for clinicians2009; 592:111-137
Adjei AA, Christian M, Ivy P. Novel designs and end points for phase II clinical trials. Clinical cancer research 2009; 156:1866-1872
Qi Y, Adjei AA, Soori GS, Garces YI, Rowland KM, Krook JE, Tan AD, Mandrekar SJ, Schild SE, Sloan JA.Pretreatment quality of life is an independent prognostic factor for overall survival in patients with advanced stage non-small cell lung cancer. Journal of thoracic oncology 2009; 49:1075-1082
Foster NR, Jett JR, Marks RS, Kozelsky TF, Deming RL, Rowland Jr KM, Nelson GD, Schild SE, Mandrekar SJ, Adjei AA. Prognostic factors differ by tumor stage for small cell lung cancer: a pooled analysis of North Central Cancer Treatment Group trials. Cancer 2009; 11512:2721-2731
Demmy TL, Tomaszewski G, Dy GK, Yendamuri S, Nwogu C, Pendyala L, Ramnath N, Adjei AA.Thoracoscopic organ suffusion for regional lung chemotherapy (preliminary results). Annals of thoracic surgery 2009; 882:385-390; discussion 390-391
Hildebrandt M, Adjei A, Weinshilboum R, Johnson JA, Berlin DS, Klein TE, Altman RB. Very important pharmacogene summary: sulfotransferase 1A1. Pharmacogenetics and genomics 2009; 196:404-406
Furth AF, Mandrekar SJ, Tan AD, Rau A, Felten SJ, Ames MM, Adjei AA, Erlichman C, Reid JM. A limited sample model to predict area under the drug concentration curve for 17-(allylamino)-17-demethoxygeldanamycin and its active metabolite 17-(amino)-17-demethoxygeldanomycin. Cancer chemotherapy and pharmacology 2008; 611:39-45
Okuno SH, Delaune R, Sloan JA, Foster NR, Maurer MJ, Aubry MC, Rowland KM Jr, Soori GS, Nikcevich DA, Kardinal CG, Northfelt DW, Adjei AA, North Central Cancer Treatment Group. A phase 2 study of gemcitabine and epirubicin for the treatment of pleural mesothelioma: a North Central Cancer Treatment Study, N0021. Cancer 2008; 1128:1772-1779
Friday BB, Adjei AA. Advances in targeting the Ras/Raf/MEK/Erk mitogen-activated protein kinase cascade with MEK inhibitors for cancer therapy. Clinical cancer research 2008; 142:342-346
Friday BB, Yu C, Dy GK, Smith PD, Wang L, Thibodeau SN, Adjei AA. BRAF V600E disrupts AZD6244-induced abrogation of negative feedback pathways between extracellular signal-regulated kinase and Raf proteins. Cancer research 2008; 6815:6145-6153
Langer CJ, Saijo N, Baas P, Adjei AA, Vokes EE, Shepherd F, Choy H, Schiller J, Wakelee H, Gandara DR.Cooperative group portfolio in locally advanced non-small-cell lung cancer: are we making progress? .Clinical lung cancer 2008; 92:85-91
Wakelee H, Choy H, Gandara DR, Gaspar L, Goss G, Adjei A, Saijo N, Baas P, Schiller J, Vokes E, Kernstine K, Putnam JB. Cooperative group research efforts in lung cancer 2008: focus on advanced-stage non-small-cell lung cancer. Clinical lung cancer 2008; 96:346-351
Wakelee H, Choy H, Shepherd F, Adjei A, Saijo N, Baas P, Schiller J, Vokes E, Langer C, Gandara DR.Cooperative group research efforts in lung cancer: focus on early-stage non-small-cell lung cancer.Clinical lung cancer 2008; 91:9-15
Furimsky AM, Green CE, Sharp LE, Catz P, Adjei AA, Parman T, Kapetanovic IM, Weinshilboum RM, Iyer LV. Effect of resveratrol on 17beta-estradiol sulfation by human hepatic and jejunal S9 and recombinant sulfotransferase 1E1. Drug metabolism and disposition 2008; 361:129-136
Molina JR, Kaufmann SH, Reid JM, Rubin SD, Galvez-Peralta M, Friedman R, Flatten KS, Koch KM, Gilmer TM, Mullin RJ, Jewell RC, Felten SJ, Mandrekar S, Adjei AA, Erlichman C. Evaluation of lapatinib and topotecan combination therapy: tissue culture, murine xenograft, and phase I clinical trial data. Clinical cancer research 2008; 1423:7900-7908
Adjei AA, Gaedigk A, Simon SD, Weinshilboum RM, Leeder JS. Interindividual variability in acetaminophen sulfation by human fetal liver: implications for pharmacogenetic investigations of drug-induced birth defects. Birth defects research. Part A, Clinical and molecular teratology 2008;823:155-165
Adjei AA. K-ras as a target for lung cancer therapy. Journal of thoracic oncology 2008; 36 Suppl. 2:S160-S163
Yu C, Friday BB, Yang L, Atadja P, Wigle D, Sarkaria J, Adjei AA. Mitochondrial Bax translocation partially mediates synergistic cytotoxicity between histone deacetylase inhibitors and proteasome inhibitors in glioma cells. Neuro-oncology 2008; 103:309-319
Gilbert JA, Adjei AA, Reinholz MM, Lingle WL, Jenkins RB, Blair HE, Suman VJ, Giordano KF, Ingle JN, Reynolds CA, Goetz MP, Ames MM. Molecular analysis of metaplastic breast carcinoma: high EGFR copy number via aneusomy. Molecular cancer therapeutics 2008; 74:944-951
Molina JR, Yang P, Cassivi SD, Schild SE, Adjei AA. Non-small cell lung cancer: epidemiology, risk factors, treatment, and survivorship. Mayo Clinic proceedings 2008; 835:584-594
Grothey A, Buckner JC, Sloan JA, Sargent DJ, Loprinzi CL, Jaeckle KA, Perez EA, Alberts SR, Adjei AA, North Central Cancer Treatment Group. North Central Cancer Treatment Group--achievements and perspectives. Seminars in oncology 2008; 355:530-544
Adjei AA, Gordon G, Simmons H, Marlow A, Litwiler K, Brown S, Poch G, Kane K, Haney J, Maloney L, Leong S, Cohen RB, Franklin W, Morris C, Wilson D, Molina JR, Hanson LJ, Gore L, Chow L, Eckhardt SG.Phase I pharmacokinetic and pharmacodynamic study of the oral, small-molecule mitogen-activated protein kinase kinase 1/2 inhibitor AZD6244 (ARRY-142886) in patients with advanced cancers. Journal of clinical oncology 2008; 2613:2139-2146
Johnson EA, Marks RS, Mandrekar SJ, Hillman SL, Hauge MD, Bauman MD, Wos EJ, Moore DF, Kugler JW, Windschitl HE, Graham DL, Bernath AM Jr, Fitch TR, Soori GS, Jett JR, Adjei AA, Perez EA. Phase III randomized, double-blind study of maintenance CAI or placebo in patients with advanced non-small cell lung cancer (NSCLC) after completion of initial therapy (NCCTG 97-24-51). Lung cancer (Amsterdam, Netherlands) 2008; 602:200-207
Sher T, Dy GK, Adjei AA. Small cell lung cancer. Mayo Clinic proceedings 2008; 833:355-367
Peng Y, Feng Q, Wilk D, Adjei AA, Salavaggione OE, Weinshilboum RM, Yee VC. Structural basis of substrate recognition in thiopurine s-methyltransferase. Biochemistry 2008; 4723:6216-6225
Lai JP, Thorgeirsson SS, Lee JS, Adjei AA, Sanderson SO, Nagorney DM, Shire AM, Zou H, Garrity-Park MM, Isomoto H, Aderca I, Guerrero RB, Jackson KK, Moser CD, Han T, Yu C, Sandhu DS, Roberts LR.Sulfatase 2 up-regulates glypican 3, promotes fibroblast growth factor signaling, and decreases survival in hepatocellular carcinoma. Hepatology (Baltimore, Md.) 2008; 474:1211-1222
Dy GK, Adjei AA. Systemic cancer therapy: evolution over the last 60 years. Cancer 2008; 1137 Suppl.:1857-1887
Lancet JE, Gojo I, Gotlib J, Feldman EJ, Greer J, Liesveld JL, Bruzek LM, Morris L, Park Y, Adjei AA, Kaufmann SH, Garrett-Mayer E, Greenberg PL, Wright JJ, Karp JE. A phase 2 study of the farnesyltransferase inhibitor tipifarnib in poor-risk and elderly patients with previously untreated acute myelogenous leukemia. Blood 2007; 1094:1387-1394
Ma C, Mandrekar SJ, Alberts SR, Croghan GA, Jatoi A, Reid JM, Hanson LJ, Bruzek L, Tan AD, Pitot HC, Erlichman C, Wright JJ, Adjei AA. A phase I and pharmacologic study of sequences of the proteasome inhibitor, bortezomib (PS-341, Velcade), in combination with paclitaxel and carboplatin in patients with advanced malignancies. Cancer chemotherapy and pharmacology 2007; 592:207-215
Davis ID, Wiseman GA, Lee FT, Gansen DN, Hopkins W, Papenfuss AT, Liu Z, Moynihan TJ, Croghan GA,Adjei AA, Hoffman EW, Ingle JN, Old LJ, Scott AM. A phase I multiple dose, dose escalation study of cG250 monoclonal antibody in patients with advanced renal cell carcinoma. Cancer immunity 2007; 7:13
Yu C, Friday BB, Lai JP, McCollum A, Atadja P, Roberts LR, Adjei AA. Abrogation of MAPK and Akt signaling by AEE788 synergistically potentiates histone deacetylase inhibitor-induced apoptosis through reactive oxygen species generation. Clinical cancer research 2007; 134:1140-1148
Adjei AA, Rajkumar SV, Tefferi A. Cancer symposium for the practitioner: introduction to solid tumors.Mayo Clinic proceedings 2007; 821:107-109
Hebbring SJ, Adjei AA, Baer JL, Jenkins GD, Zhang J, Cunningham JM, Schaid DJ, Weinshilboum RM, Thibodeau SN. Human SULT1A1 gene: copy number differences and functional implications. Human molecular genetics 2007; 165:463-470
Leil TA, Endo C, Adjei AA, Dy GK, Salavaggione OE, Reid JR, Ames MM, Adjei AA. Identification and characterization of genetic variation in the folylpolyglutamate synthase gene. Cancer research 2007;6718:8772-8782
Ramnath N, Adjei A. Inhibitors of Raf kinase and MEK signaling. Update on cancer therapeutics 2007;23:111-118
Meng XW, Lee SH, Dai H, Loegering D, Yu C, Flatten K, Schneider P, Dai NT, Kumar SK, Smith BD, Karp JE,Adjei AA, Kaufmann SH. Mcl-1 as a buffer for proapoptotic Bcl-2 family members during TRAIL-induced apoptosis: a mechanistic basis for sorafenib (Bay 43-9006)-induced TRAIL sensitization. Journal of biological chemistry 2007; 28241:29831-29846
Adjei AA. Novel small-molecule inhibitors of the vascular endothelial growth factor receptor. Clinical lung cancer 2007; 8 Suppl. 2:S74-S78
Haluska P, Adjei AA, Gualberto A, Sharma A, Roberts ML, Yap TA, Molife LR, Molina JR, Yin D, Batzel GN, Shaw HM, de Bono JS. Phase I dose escalation study of the anti insulin-like growth factor-I receptor monoclonal antibody CP-751,871 in patients with refractory solid tumors. Clinical cancer research2007; 1319:5834-5840
Adjei AA, Lathia C, Xia C, Jett JR, Hanson LJ, Croghan G, Reid JR, Marks R, Mandrekar SJ, Molina JR, Simantov R. Phase I trial of sorafenib in combination with gefitinib in patients with refractory or recurrent non-small cell lung cancer. Clinical cancer research 2007; 139:2684-2691
Barton DL, Adjei AA, Rummans T, Palmieri F, Hines S, Shanafelt T, Raymond J, Atherton P, Loprinzi CL, Sloan J. Phase II Evaluation of Desipramine for the Treatment of Hot Flashes. Supportive cancer therapy 2007; 44:219-224
de Bono JS, Attard G, Adjei A, Pollak MN, Fong PC, Haluska P, Roberts L, Melvin C, Repollet M, Chianese D, Connely M, Terstappen LW, Gualberto A. Potential applications for circulating tumor cells expressing the insulin-like growth factor-I receptor. Clinical cancer research 2007; 1312:3611-3616
Schild SE, Wender DB, Tenglin RC, Kugler JW, Soori GS, Graham DL, Marks RS, Vigliotti AP, Kozelsky TF, Hillman S, Bonner JA, Adjei A. Results of a phase II study of high-dose thoracic radiation therapy with concurrent cisplatin and etoposide in limited-stage small-cell lung cancer (NCCTG 95-20-53). Journal of clinical oncology 2007; 2521:3124-3129
Schild SE, Mandrekar SJ, Jatoi A, McGinnis WL, Stella PJ, Deming RL, Jett JR, Garces YI, Allen KL, Adjei AA, for the North Central Cancer Treatment Group. The value of combined-modality therapy in elderly patients with stage III nonsmall cell lung cancer. Cancer 2007; 1102:363-368